Findings from our new analysis of how the retail environment reacted to COVID-19 in the first half of 2020 include:
FMCG shopping via ecommerce grew a massive 41%; from 8.8% of value in 2019 to 12.4% in the second quarter of the year.
The collapse in out-of-home (OOH) spending resulted in Snacking and Non-Alcoholic Beverages spend falling by between 10% and 30% in major markets
The transfer of OOH eating to in-home increased in-home eating occasions by 21% - generating new category opportunities for brands.
A new era of 'Liquid Retail'; where the lines between home delivery, ecommerce, in-home and OOH are fluid and will make FMCG market competition fiercer than ever.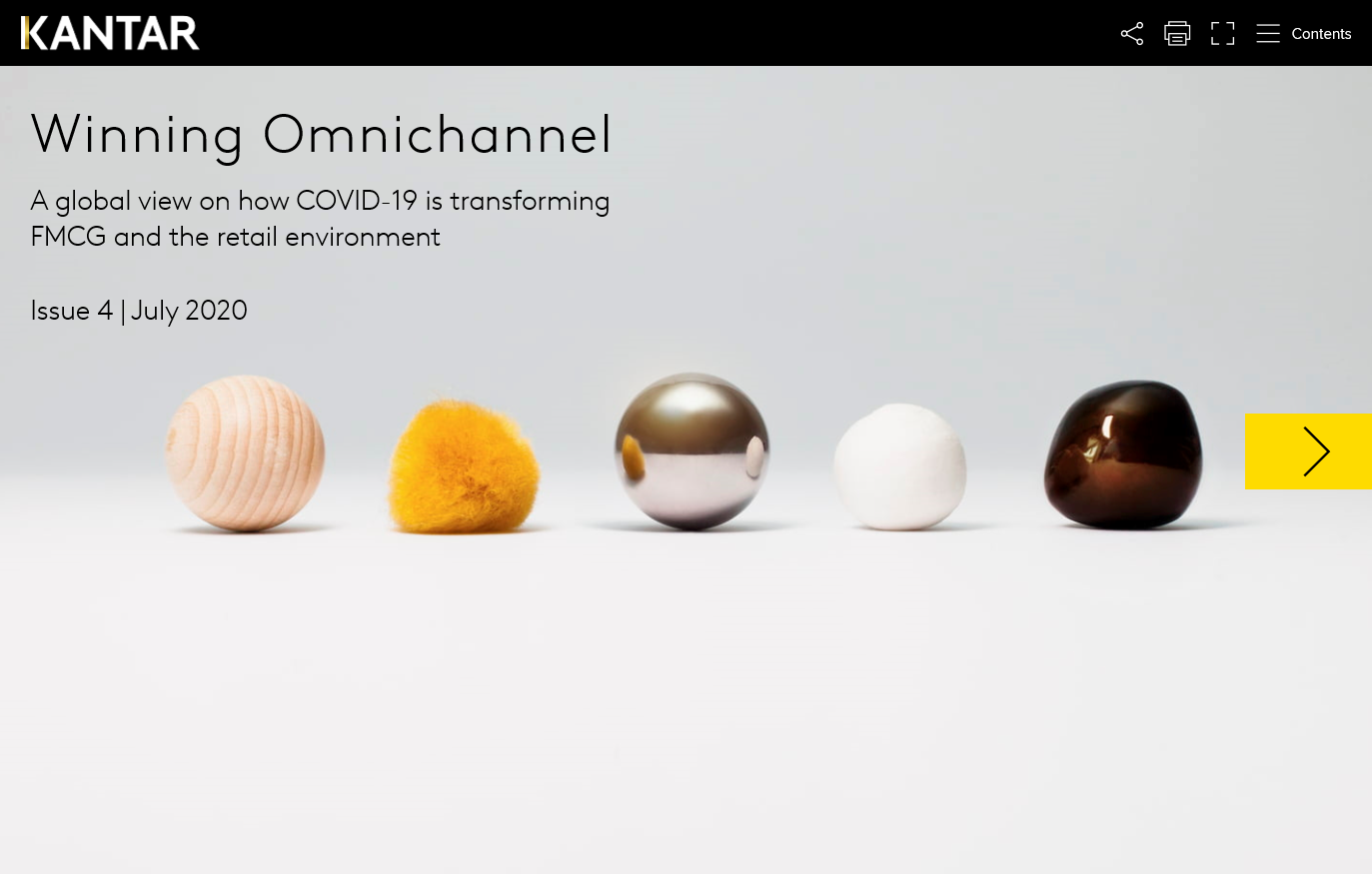 The ascent of online grocery shopping
Observing all channel evolution during COVID-19, ecommerce grew 41% in just three months, versus 22% growth in 2020. In France, UK, Spain and China the average share has moved from 8,8% to 12,4%. China represents one of the biggest online markets with ecommerce accounting for ¥1 in every¥4 spent on FMCG, while the UK, the next biggest market, represents £1.13 in £10 spent on groceries. In China, Alibaba rose from 5.7% share to 10.9% end of April, while more than one in three Chinese shoppers had made an FMCG purchase through WeChat. Supermarkets and convenience store formats also grew during lockdown as proximity and store footprint have become important elements of success.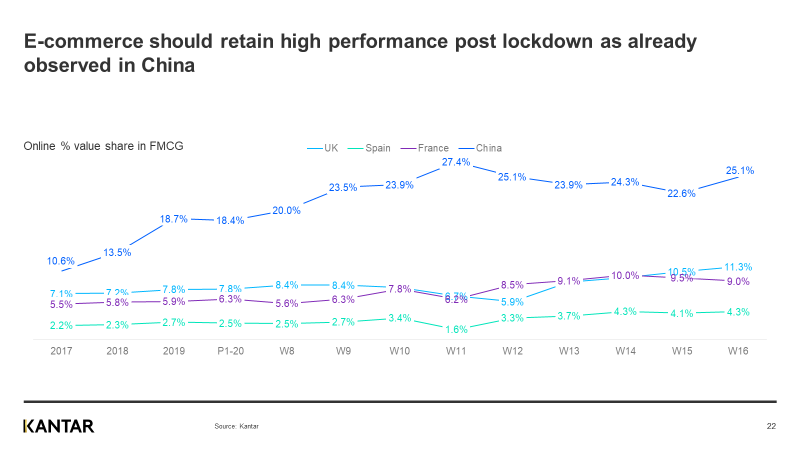 OOH spend boosts shopping for in-home – but not enough
Out-of-home consumption disappeared overnight with the closure of restaurants and cafes. With average spend per meal significantly lower, the transfer from out of-home to in-home spending is not enough to generate incremental growth. Although shopping for in-home consumption increased by double digits in most countries, the combined out-of-home and in-home consumption dropped between 10% and 30% during lockdown.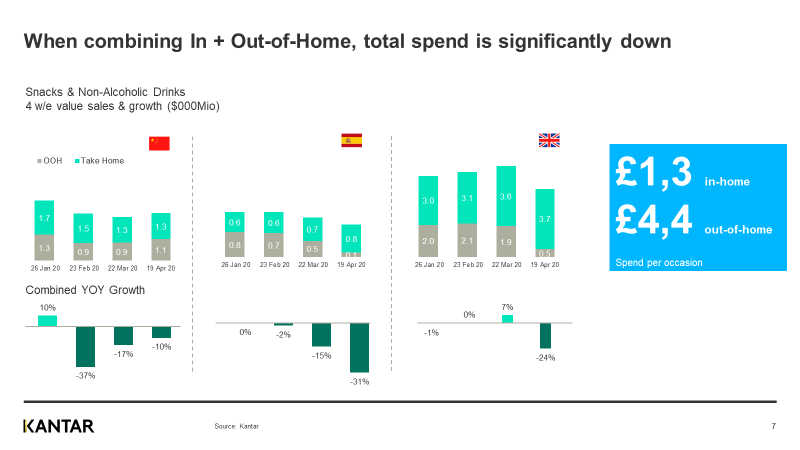 New occasions outside of core moments
The dynamics behind meals eaten in the home have been significantly disrupted by the lockdown. With the majority of people working from home and children not in school for the foreseeable future, we've seen a renewed focus on some occasions. Families have been spending more time preparing and eating breakfast together. People are also snacking more between meals as they look for 'pick me up' moments throughout the day. Health advice has also led to a surge in sales of hygiene and health-related products.
All signs point to a tough second half of 2020
Increasing unemployment levels around the world suggest the FMCG landscape will struggle to bounce back in the short-term. Lessons from previous economic downturns suggest we will see a number of trends. 'Brand downtrading' will create an opportunity for retailers' private labels – particularly in Asia and Latin America where FMCG private label value share is lower than in Europe. Although in-store promotions declined during the lockdown period we forecast that hyper- and supermarkets will activate promotions to win back share.
Through the rest of this year and in to next the FMCG market will see less demand and more competition. To succeed retailers will need to rethink their ranging, as well as price and promotional strategies and accelerate their digital transformations. Manufacturers will need to adjust their product portfolios to cater for new behaviours and routines. Both will need a clear understanding of price elasticity, pack sizes and the promotion mechanics that are critical to attracting shoppers.
Read our fourth Winning Omnichannel report for a unique picture of how COVID-19 has transformed FMCG dynamics, based on our most comprehensive global research to date. We share strategies for navigating the rapidly shifting retail environment, and share our predictions of what the post-COVID landscape could look like.
Download the new report, watch the webinar, or contact our experts to learn how to make the most of the insights to grow your business.