The Qatar 2022 World Cup will undoubtedly go down in history as one of the most memorable of all time. With captivating story lines unravelling before us, the Messi vs Ronaldo saga, tournament debutants, underdog triumphs, contentious VAR decisions, late goals, sensational comebacks and a final to rival any other - the on-pitch drama certainly exceeded expectations.  

Recognising the global appeal and fanfare surrounding the competition, we asked ourselves the question; given the enormous interest, what impact would a successful or unsuccessful tournament have on a player's marketability?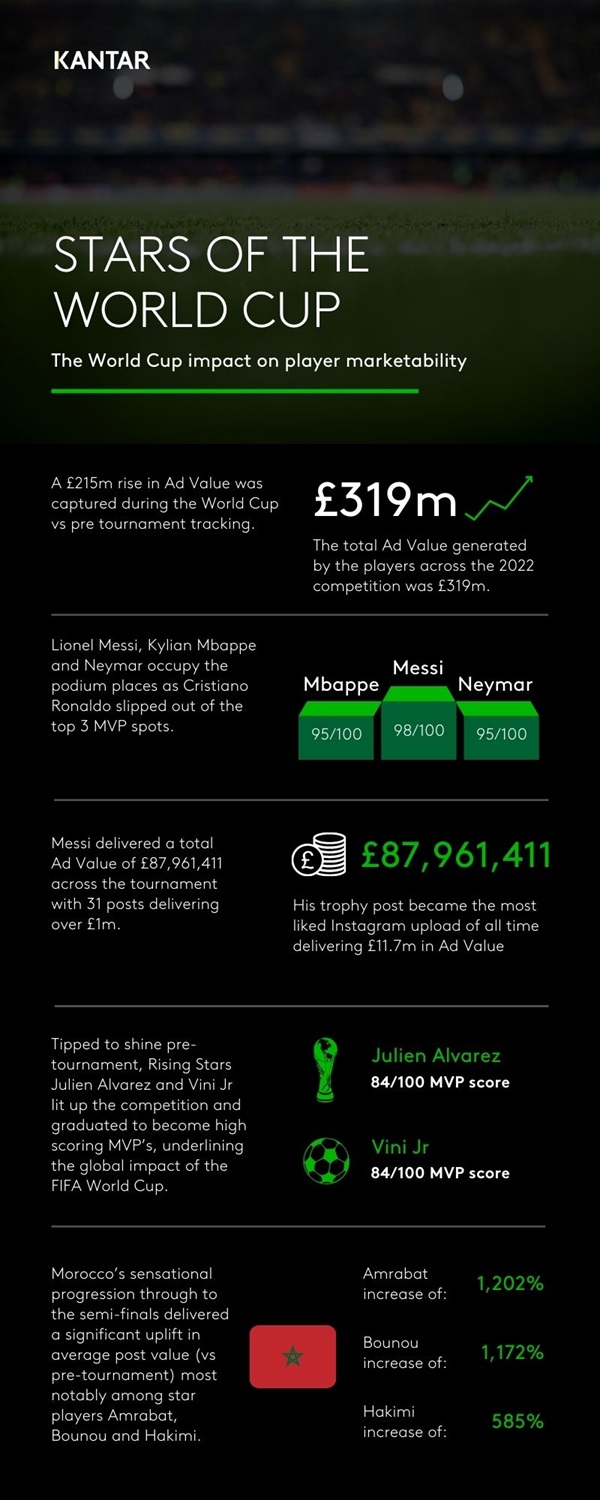 How much Social Ad Value (SAV) was generated by the players over the tournament? 
Over the course of the tournament there were over 2.2 billion engagements with player posts, which accumulated a total SAV of £319m. Compared to a pre-tournament SAV of £104m, a £215m increase was recorded, clearly demonstrating the ability of the FIFA World Cup to enhance the marketing power of participating athletes.  

Instagram was the most valuable platform accounting for £190m, 60% of the total, Facebook and Twitter were also notable sources of SAV, generating £67m and £62m respectively. The average SAV per-player-post during the World Cup was £79,827, up £60k vs pre-tournament tracking (£19,655). 

Players featuring for teams in the semi-final matches delivered an SAV of £153m - 48% of the total SAV which highlights the impact that team success in a major tournament can have on an individual's marketability. 
Who were the largest contributors to the total SAV? 
Breaking down the total SAV to understand how much each player generated throughout the tournament emphasises the impact that an individual can have in driving sponsorship value for their partners.  

Among the highest drivers of SAV were Richarlison (#5th, £14.3m) and Neymar (#3rd, £30.4m) of Brazil. A nation representing the tradition and a legacy synonymous with the World Cup, the Brazilian national side have a dedicated global fanbase that provides a significant platform for its soccer stars to engage with audiences worldwide.  

French phenomenon Kylian Mbappe contributed 4th most to the total SAV, the 2022 tournament top goal scorer generating £23.1m. Cristiano Ronaldo recorded the 2nd highest with £43.3m, just shy of half the amount amassed by Lionel Messi, the world cup winning captain and Player of the Tournament, who delivered an astonishing £88m which accounted for 26% of the total SAV.
1.Lionel Messi - £88m
2. Cristiano Ronaldo - £43.3m
3. Neymar - £30.4m
4. Kylian– £23.1m
5. Richarlison - £14.3m
Producing stunning performances and scoring 7 goals, Lionel Messi led Argentina to their first World Cup triumph since 1986. Breaking records has become somewhat second nature to the Argentinian, yet another accolade can be added to his list of achievements as the image of him with the prestigious trophy became most liked Instagram post of all time delivering £11.7m in SAV. Additionally, 31 of Lionel Messi's posts delivered over £1m in SAV resulting in total post value increase of £81m vs pre-tournament, phase one tracking.
And who were the tournaments MVP's?
Analysing the data through an MVP lens enables measurement of the marketability, value and presence of each player to determine their MVP score. 5 key pillars; following, impact, social media value (value), popularity and platform, feed into the overall MVP score and can inform sponsorship decision making. The controversy surrounding Cristiano Ronaldo ahead of the tournament followed by a handful of underwhelming displays saw him slip out of the MVP podium places. The Portuguese talisman's popularity metric suffered in phase two, though the mega-star still managed to document a 94/100 MVP score – his following, platform and impact all recorded perfect scores underlining the scale and weight he carries on fans worldwide.
Kylian Mbappe and Neymar push ahead of Cristiano Ronaldo to take joint second with an equal score of 95/100. Neymar's following and platform recorded perfect scores. Along with his strong impact performance, the Brazilian provides huge access to a dedicated fanbase. Kylian Mbappe also recorded a perfect platform score as well as a perfect value score. The Frenchman's following and impact performance is exceptional which highlights the marketing influence he holds to engage with large and highly engaged audiences.
Lionel Messi takes top spot with a near perfect MVP score of 98/100. The seven-time-Ballon d'Or winner achieves full marks for following, platform, value and impact which enables access to a devoted global audience.


The Rising Stars of Qatar 2022 
The Rising Star edition enables us to establish who the next wave of MVP's may be. This process gives the opportunity for sponsors to identify potential partnerships earlier in the athlete's journey, and can demonstrate an alternative motivation to their relationship by representing a different set of principles to the consumer, ie supporting younger, lower profile athletes.  
Many stars emerged during Qatar 2022. The two most notable, Brazilian Vini Jr. and Julian Alvarez graduated from Rising Star as both recorded a strong MVP score of 84/100. This significant rise further enforces the impact of success at a major competition.  
Julian Alvarez documented high platform, impact, value and popularity, the perfect recipe to organically raise his comparably low following score over time. We expect the World Cup winner will continue to elevate his MVP status in 2023. 
Recent years have seen Jude Bellingham make significant strides in his development. At the 2022 World Cup, England's wonderkid, certainly announced himself. The young midfielder was the highest scoring U23 Rising Star, generating £3.4m in SAV – a per-post average of £76k. His following, value and popularity scores indicate an imminent graduation to MVP and a clear headway up the ranking.  
Successful team progression delivered a measured individual impact, most notably for the stars of semi-finalists Morocco. Players of the first African nation in the competition's history to progress to the last four recorded a significant uplift in average value per post vs phase one, driven by engagement growth. Among the most notable increases were Sofyan Amrabat (£52,501 = 1,202% growth), Yassine Bounou (£196,774 = 1,172% growth) and Achraf Hakimi (£158,497 = 585% growth). A rise in popularity was reflected in marking up the players' MVP status; Sofyan Amrabat recorded the largest growth of 24 points = 66/100, Yassine Bounou achieved a 23-point increase = 78/100, while a growth 20 point growth elevated Achraf Hakimi among the top MVP performers = 86/100. 
Background and methodology 
With exposure at major events providing a global platform to engage with audiences - the worlds eye focused upon every action on or off the field – the increasing importance to understand the potential impact of sponsorship is critical to ensure successful partnership activation. 
From September 22nd – November 15th, using
Kantar's MVP solution
, the first monitoring phase took place tracking hundreds of players that were tipped to make the final squads of the qualified nations. This data provided a pre-tournament read of MVP performance which would later be used to measure the impact of World Cup on a player's marketability. 
The second monitoring phase began on November 20th, which saw the first of 64 matches take place featuring host nation Qatar who kicked-off the competition vs Ecuador. Phase two monitoring was completed on December 24th, six days after the Final match between Argentina and France, to ensure the post tournament buzz was captured to represent the most accurate accumulation of value. 
MVP monitors a deep pool of athletes across a variety of sports, supplying the depth required to become the evaluation currency for benchmarking marketability performance evolution. If you would like to find out more, please contact
Andy.Brember@kantar.com