Who Cares? Who Does?, which surveyed almost 100,000 shoppers in 24 countries, finds that, for the first time in the report's four-year history, the number of 'Eco Actives' shoppers has declined. Eco Actives, those most engaged in sustainability issues, dropped by 4% in 2022 compared to 2021 and 2020 – while 'Eco Dismissers' rose by 7% to 44% of the global population. The Eco-actives decline is widespread, with the largest drops seen in Spain (-8%), Portugal (-5%), Ireland (-5%) and India (-5%). More positively, France, the US, and Colombia experienced flat or growing Eco Active groups.
Despite the overall fall, Eco Actives shopping power is still worth $376 billion to the FMCG market in 2022. The Eco Active segment is forecast to grow to $763 billion by 2027 in a pessimistic scenario or to $1.12 trillion in an optimistic prognosis. The broader population, that has at least some interests in sustainability globally, is equal to $1.14 trillion in spending in 2022.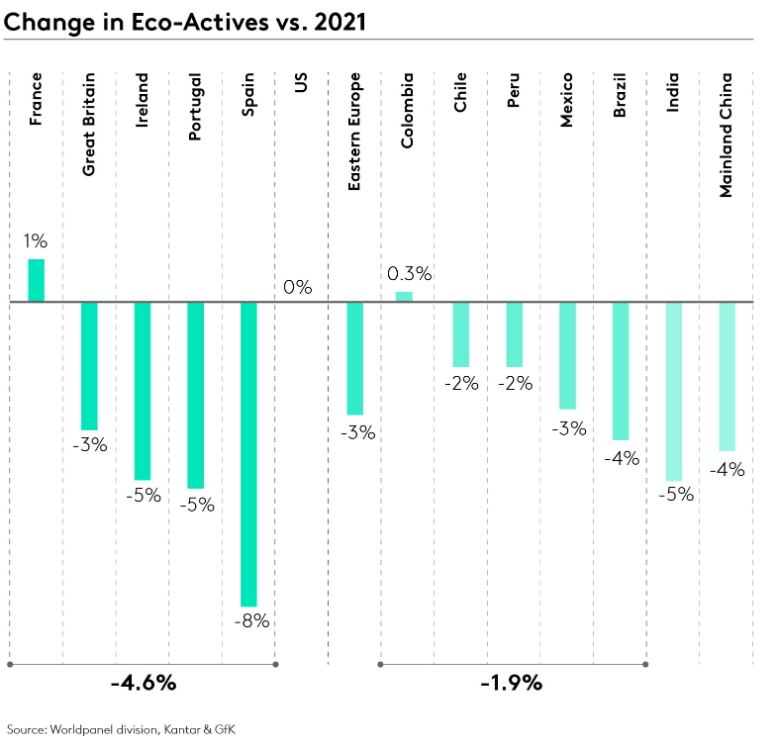 Household segments
The Who Cares? Who Does? study segments households into three categories based on their actual behaviours:
Eco Actives: Shoppers who are highly concerned about the environment and are making the most of actions to reduce their waste.
Eco Considerers: Shoppers worried about the environment and plastic waste but are not taking many actions to reduce their waste.
Eco Dismissers: Shoppers who have little or no interest in the environment and are making no steps to reduce waste.
Environmental attitudes segmentation of global households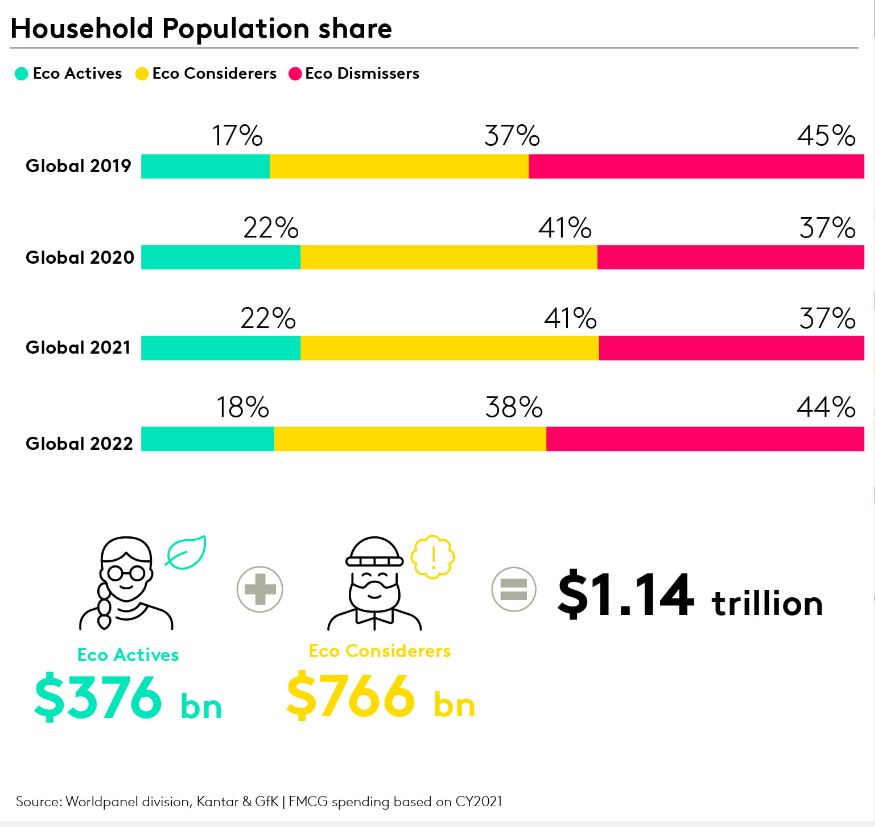 Economy vs environment: the cost of conscious consumption
The 'cost of living' crisis is having an environmental impact. Almost one-half (45%) of respondents reported that it was harder to act sustainably due to social or financial constraints. Recent findings from our Sustainability Sector Index study revealed that the cost of living means sustainability is becoming a luxury of wealthy consumers. The Who Cares? Who Does? study reinforces this point. In the UK, for example, the top 20 brands that outperform with Eco Actives are, on average, 75% more expensive than the average price in their category. However, given the financial headwinds, this positioning may face challenges. Within the total FMCG market, brands with price points more than 10% over the category average are already experiencing share declines.
Good intentions are a great opportunity
When it comes to consumer behaviour around packaging, there is a large value-action gap – between people's stated values and their actions. 62% of people try to buy products with environmentally friendly packaging. Only 24% however, regularly avoid buying products packaged with plastic. These unfulfilled good intentions mean there is a market opportunity for brands in helping shoppers to close this gap. Closing this value-action gap represents a $991 billion opportunity for those FMCG companies willing to pursue stronger environmental credentials.
Value-Action gap in packaging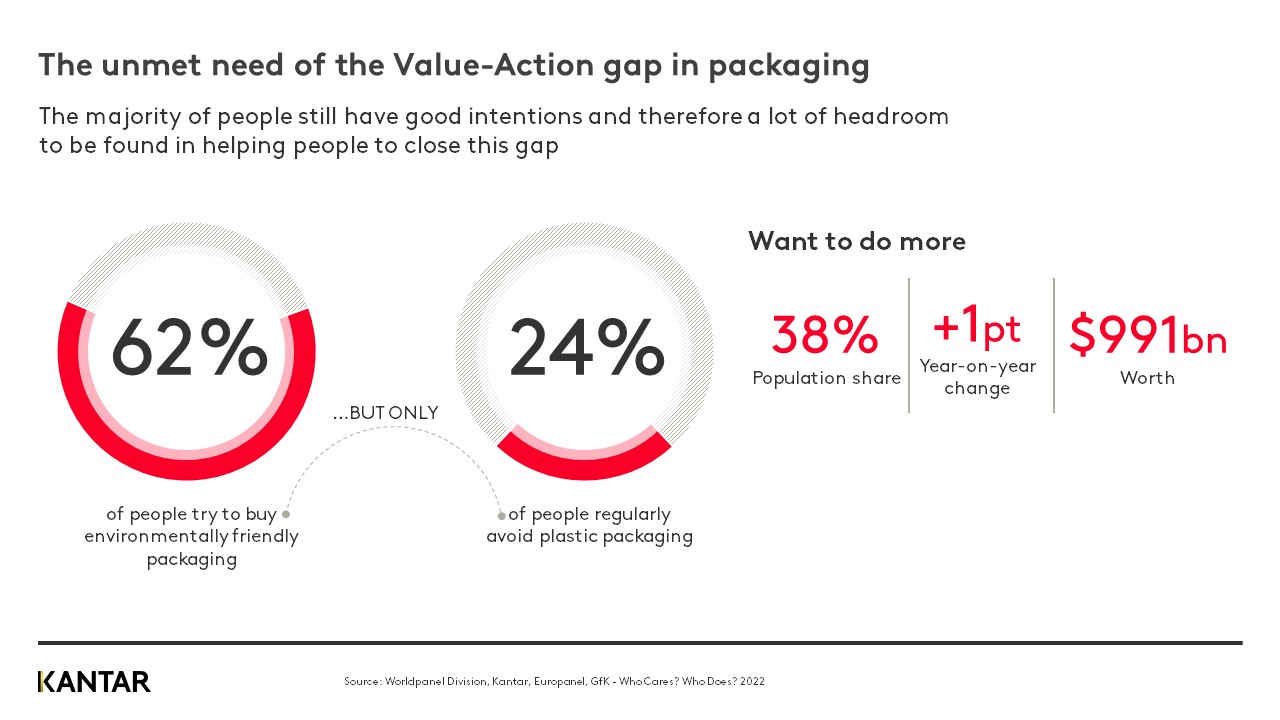 Discussing the findings, Natalie Babbage, Global Director for Kantar's Worldpanel LinkQ Solution, commented: "Amidst a difficult world climate – from conflict and political instability, to spiralling costs and inflation, environmental issues have dropped down the priority list for many people in their day-to-day worries. It is unsurprising that against these very prominent and present issues, sustainability and its more long-term negative effects are not being prioritised.
The post-pandemic era has had a life-changing effect. As lifestyles have got busier, with more people back at work and social lives back on track, people don't have the time they may have had during government and state-enforced lockdowns. This means a return to seeking convenience over plastic-free items: we see people buying fewer refills, avoiding plastic less and buying plastic drink bottles more, which may all be symptoms of this 'back to normal', time-poor lifestyle we experienced pre-COVID.
Frustration at lack of progress from companies also appears to be a factor for shoppers. Eco Actives are a group that thrives on optimism, yet we found that there is cynicism among them regarding how far brands are going, and how much brands truly care about the environment."
Who Cares?, Who Does?, Kantar's study into sustainable shopping behaviour can be found at www.kantar.com/whocareswhodoes.