This article was originally created for a partner content campaign with the Commercial Department of the Financial Times.
Sustainability matters. Consumers are, more and more, looking at brands' social and environmental credentials before heading to checkout: a company's perceived sustainability now drives a modest yet expanding three per cent of brand equity, according to analysis in the latest Kantar BrandZ global report. But though companies may be scrambling to clean up their operations, often putting pressure on suppliers and prioritising environmentally responsible companies across their supply chains, surprisingly few are being recognised by consumers for their efforts.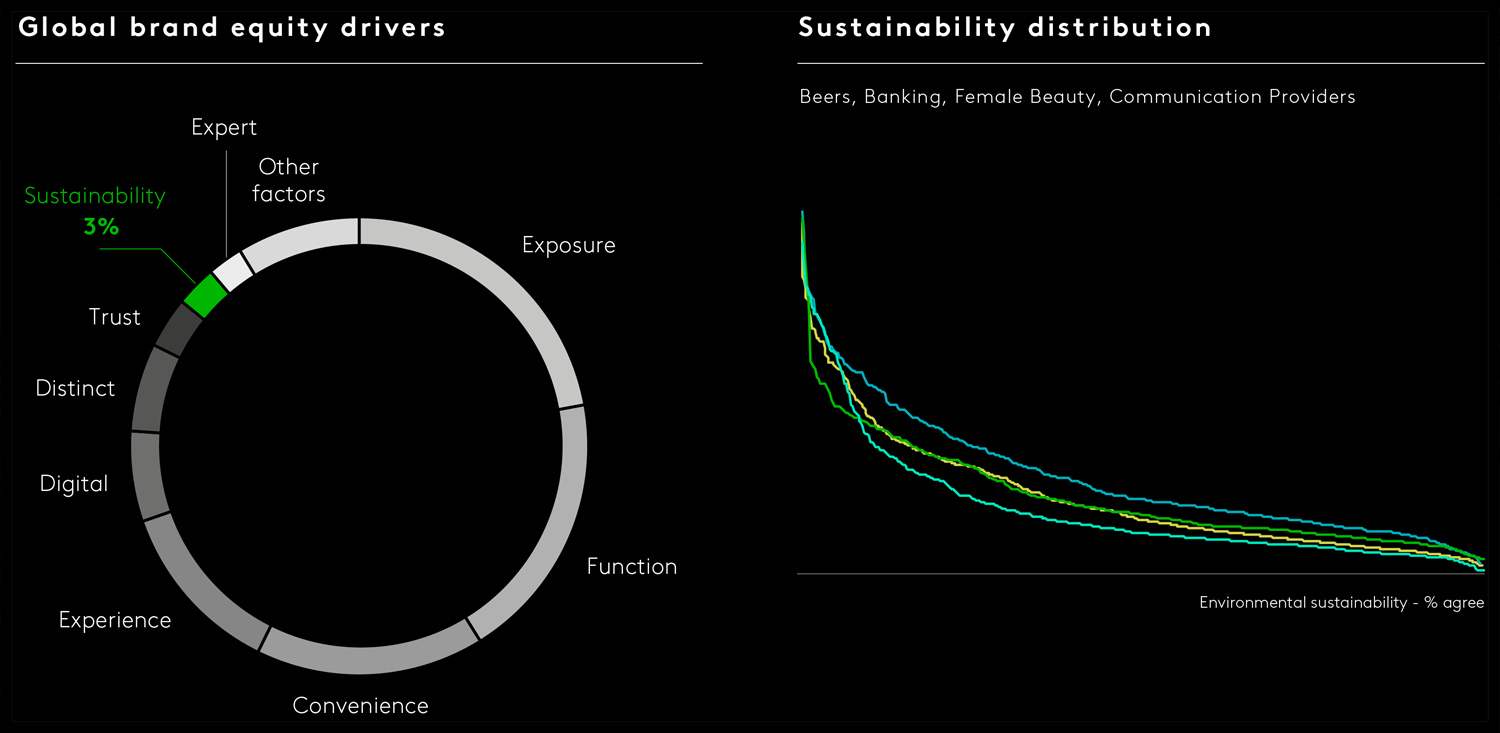 Source: BrandZ X Analytics Brand Structures Analysis. BrandZ database 2020-2021


Kantar's newly launched Sustainability BrandZ Index ranks companies not only on their efforts to become more responsible, but also on how their sustainability efforts are seen by customers. It combines investment research firm MSCI's environmental, social and governance (ESG) ratings with Kantar's own consumer perception score, based on four key areas: employees, environment, society and supply chain.
Of the world's most valuable global brands, just 13 were awarded four- and five-star ratings, with IBM, Zara and Microsoft leading the pack. Other high scorers may seem unexpected, if only because they belong to sectors not traditionally linked with pro-environmental values. They include alcohol brand Guinness, cosmetics brand Garnier, and China Construction Bank.
During an era when many companies are accused of greenwashing – using marketing spin to mislead the public into thinking that their products, aims or policies are sustainable – it may even seem sensible that some are reluctant to show off their environmental endeavours. Some 64 per cent of people worry that brands are involved in social issues only for commercial reasons, according to our sustainability practice's global research.
But in a world in which there is, increasingly, nowhere to hide, actively engaging with customers on these topics is the surest way for brands to avoid charges of inauthenticity. In order to connect meaningfully with consumers, brands need first of all to understand what issues people feel are relevant to their sector. Typically, organisations do a great job at looking inward at issues of broad materiality. But when it comes to identifying the issues they can authentically talk about with consumers, and how to communicate those in an effective way, they tend to struggle.

Source: BrandZ global most valuable brands 2022


Ultimately, clarity of communication does seem to pay off. The value of Kantar's top-rated Sustainability BrandZ brands grew by 31 per cent in 2021, compared with 23 per cent across the top 100 brands overall. That leap in growth should provide the impetus for brands to develop and promote new products, services and communications that centre on sustainability – especially as social and environmental issues are becoming ever more important for customers in emerging markets.
While sustainability is a growing driver of consumer decision-making in the United States and Western Europe, Kantar research shows it is even more important elsewhere – not least in India, China and Saudi Arabia. Globally, sustainability is most likely to boost brand equity in Indonesia, where a burgeoning middle class is predicted to boost the country's GDP by more than 5 per cent in 2022 and 2023, according to the Asian Development Bank.

Source: BrandZ X Analytics Brand Structures Analysis


In many of these emerging markets, customers are more likely to value brand reputation when making major purchases. In this context, a clear stance on sustainability and easily traceable supply chains is just one element that modern brands are expected to demonstrate as trustworthy, high-quality producers. Brands with a consistent environmentally aware stance can leverage these opportunities to foster customer demand.
Silvia Garcia was the International Director of Marketing at Coca-Cola in 2015 when it became the first Fortune 500 company to replenish all water used in its global production. She put storytelling at the heart of her approach to communicating pro-environment efforts. "We brought them to life showcasing people's lives, and showing how the sustainability initiative was helping them to achieve certain goals," she says. "People remember stories better than they do numbers and statistics."
Garcia believes that marketing and sustainability departments must work together in order to communicate effectively. "Today's customers choose to buy products and services that reflect [the] values they have, and sustainability is a very important issue for them."
This mindset is becoming more widespread among not only consumers but also investors and B2B firms, who see solid sustainable values as a guarantee of quality. Sustainability credentials are no longer an optional extra, but a key indicator that a brand means business. "[ESG strategies] give investors and B2B customers the confidence that they're investing in and working with the best partners," says Hall. "ESG proficiency is becoming a shorthand for being a world-class, future-facing corporation."
Find out how Kantar works with organisations across the spectrum of sustainability challenges, in order to define and activate their sustainability strategy - click here. Get in touch to identify the opportunities in sustainability to transform your brand and business.