Worldpanel's latest Entertainment on Demand (EoD) data on the Great Britain's streaming market uncovers the following behaviours within the Video on Demand (VoD) market between January to March 2023:
VoD-enabled households that subscribed to at least one video streaming service in Great Britain (GB) fell to 16.10million, down 144k, quarter on quarter, representing 55% of households, compared to 16.91million in Q1'22, and 16.95million in Q1'21.
4% of British households took out at least one new streaming subscription in the first quarter of the year, up from 3% a year earlier. While 7% of households cancelled at least one subscription as part of their post-Christmas 'subscription cull'.
The total number of video streaming services being subscribed to by British households fell by over 167k in the quarter to 29.44million, with Netflix seeing the largest absolute losses in subscriber numbers.
After the post-Christmas cull of subscriptions in Q1'23, the second quarter of the year looks to be more stable, with planned video cancellations dropping to 6.8% of subscription holders, a fall both year on year and quarter on quarter.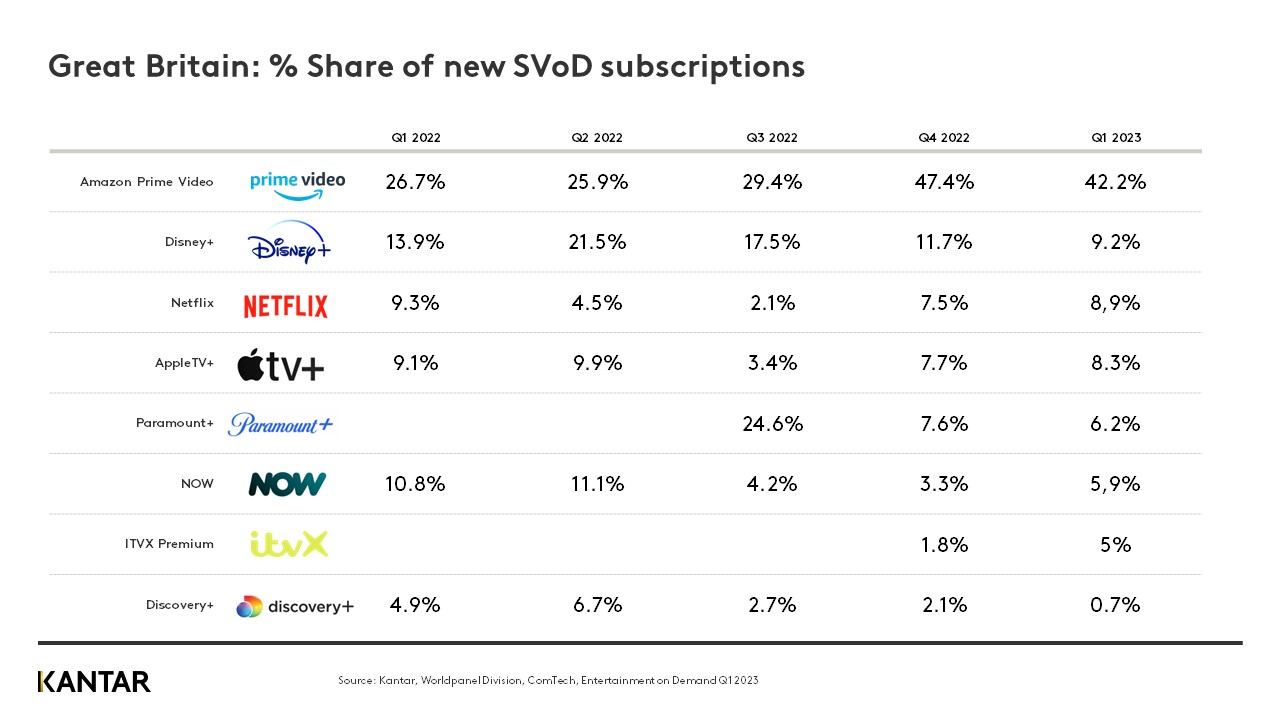 Ecosystem strategy protects Amazon from post-Christmas cull
At the end of 2022, Kantar data showed consumers planned to scale back their video streaming subscriptions in Q1'23 and this played out, with 144k households dropping out of the VoD sector altogether and a net loss of 167k subscriptions. However, some services were more heavily impacted by this trend than others, with Prime Video showing resilience.
Dominic Sunnebo, Global Insight Director, Kantar, Worldpanel Division, comments, "It's often the case that consumers take out Prime Membership with Amazon in Q4 for the fast and free delivery service and at the same time utilise the Prime Video service for entertainment over the Christmas holidays, before cutting back the next quarter. However, whilst Prime membership did drop back in Q1, the drop was limited to just a 1%-point drop, significantly lower than seen during the same period a year ago and, importantly, engagement with Prime Video among loyal Prime Members actually increased in Q1'23."
"The overall effect was a relatively flat Prime Video subscriber numbers, in a falling market. The release of Clarkson's Farm during the quarter played a key role in engaging Prime Video subscribers, with the title the #2 most enjoyed across all SVoD platforms during Q1'23. Amazon's investment in Sport also played an important role, with sporting content driving 1 out of every 3 new subscribers to Prime Video in the quarter."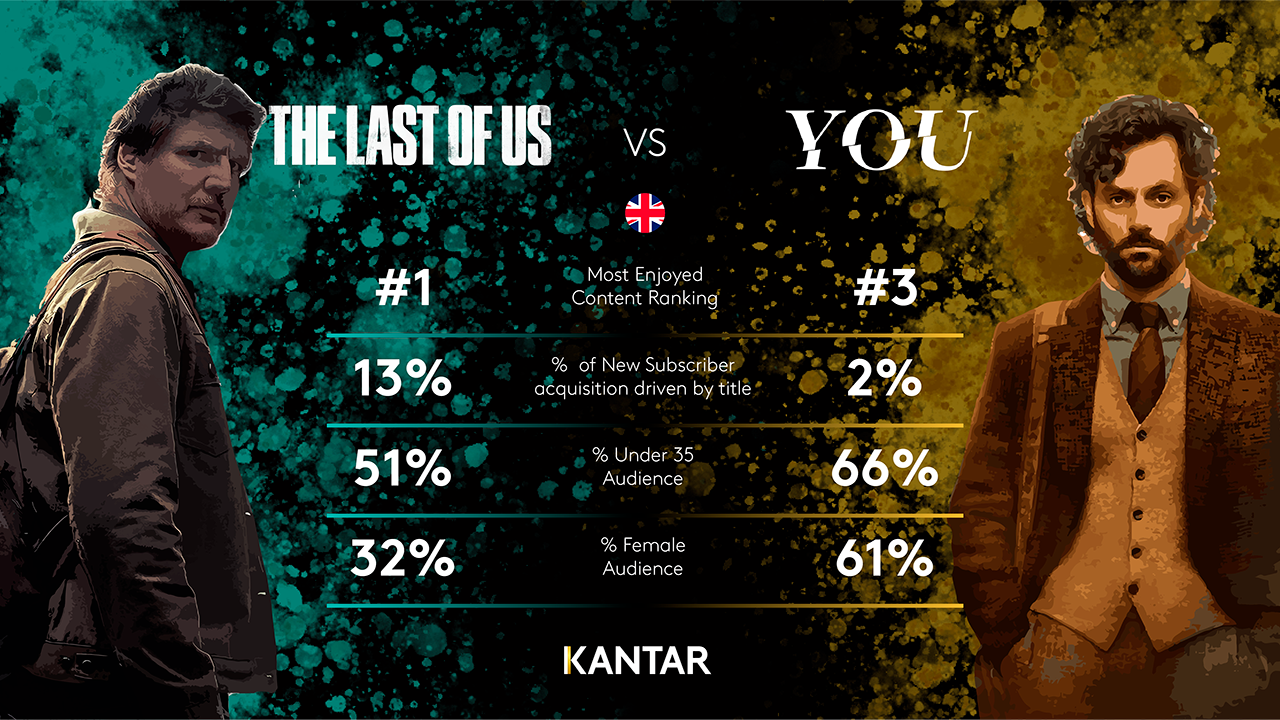 AppleTV+ investment in British content resonates pays dividends
AppleTV+ had a strong first quarter to 2023, seeing the second fastest growth in absolute subscriber numbers vs. the previous quarter, only beaten by newly launched ITVX premium. AppleTV+ took #4 spot in terms of share of new subscribers over the quarter, with Slow Horses, an MI5 spy-based Drama, a top title driving new subscriber acquisition.
Dominic Sunnebo comments, "Whist AppleTV+ continues to attract new subscribers, its growth prospects remain somewhat hamstrung until it can get a handle on churn, which remains well above its competitive set. The investment in British content clearly resonates with the population and AppleTV+ subscribers rate the quality of programming on the service higher than any other platform. Apple's challenge, however, is that it can't produce new series fast enough for subscribers to feel like they're getting sufficient value for money. While Apple scores top on quality on shows, it remained bottom on value for money, with the #1 reason for cancellation being 'not enough new TV shows."
ITVX premium gains momentum on the back of their rebrand
ITVX, and ITVX premium a relaunched service from ITV, replacing its existing ITVHub and ITVHub+ offering, had an impressive first quarter showing. ITVX noted a jump in weekly users in Q1'23 vs ITVHub in Q4'22, along with ITVX premium gaining 5% of new SVoD subscribers in the quarter with the incorporation of BritBox content. A Spy Among Friends, the story of an MI6 agent and a Soviet Spy, helped to attract a new audience to ITVX premium, and was the top title driving new subscriber acquisition in the quarter. A Year on Planet Earth, a nature programme narrated by Stephen Fry also proved popular.
As well as the variety of TV shows, the ability to watch shows without adverts was a key attraction to ITVX premium subscribers, cited by 28% as a key reason for signing up.
Netflix hurting from consumers looking to save money
The launch of Netflix cheaper ad supported price tier has helped it see a small pick-up in share of new subscribers. However, increased cancellations as its subscribers look for ways to save money diluted any significant benefit in terms of total subscriber numbers.
Dominic Sunnebo comments, "There has been no dramatic drop across most of Netflix's key performance metrics, but rather, a gradual decline across almost all areas, including satisfaction with variety of TV series, amount of original content and quality of shows. This is further demonstrated further by looking at the most enjoyed content across Britain, in the first quarter of 2023, with just 3 of the top 10 most enjoyed VoD titles being on Netflix, compared to 6 a year ago. In addition, and perhaps the most concerning area is that Netflix subscriber net satisfaction in value for money fell from +31% a year ago to +22% in the first quarter of 2023. Netflix consumers are increasingly questioning the value for money they get from their subscriptions and when consumer finances remain tight, this is translating into increased churn.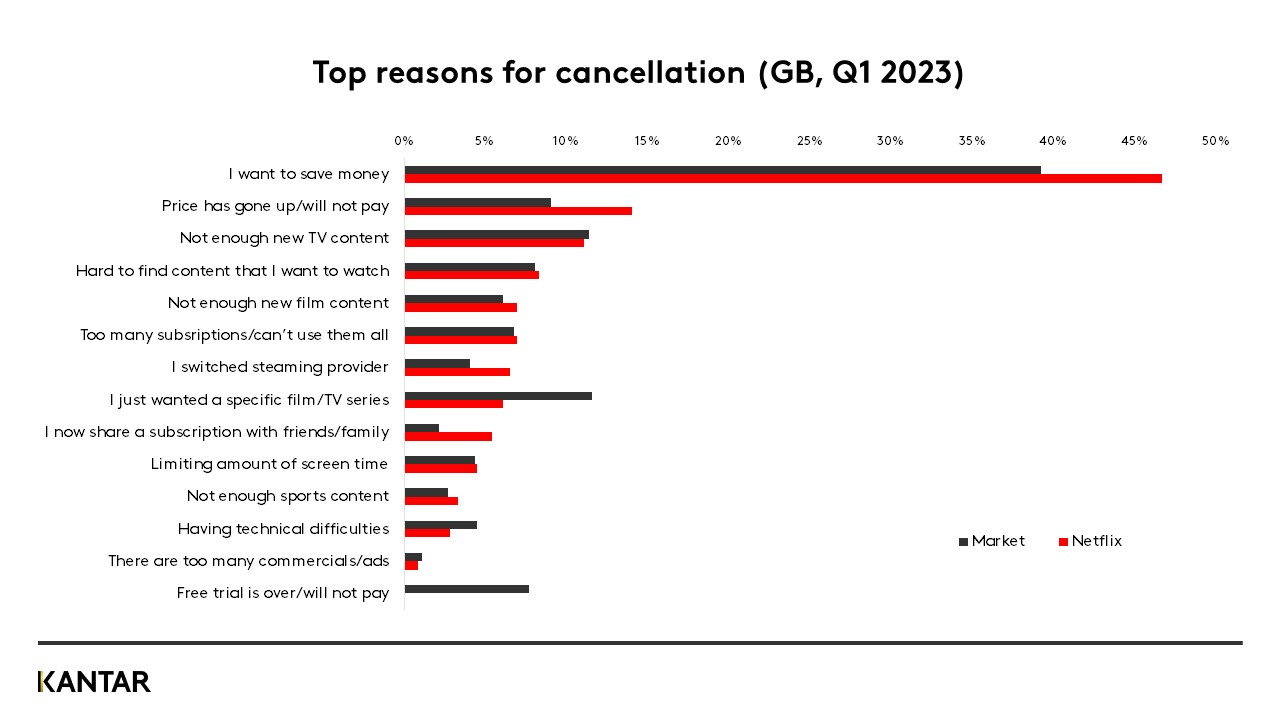 Access the interactive data visualisation tool for more information.