Germany's data shed light on the complete customer journey within the Entertainment on Demand (EoD) sector and offers an overview of current developments in the market. The following trends have emerged in the first quarter of 2021 with regard to new contracts for streaming video on demand (SVoD) providers:
Nearly half of all German households (20.43 million) have at least one SVoD subscription
73% of German households with SVoD subscribe to two or more streaming services
Amazon Prime Video has the highest number of subscribers and Netflix has the most satisfied subscribers
'Vikings' was the most popular streaming production among Germans in the first quarter of 2021, followed by 'The Walking Dead' and 'Money Heist'
TV Now Premium acquired almost 12% of new SVoD customers in Germany in the first quarter of 2021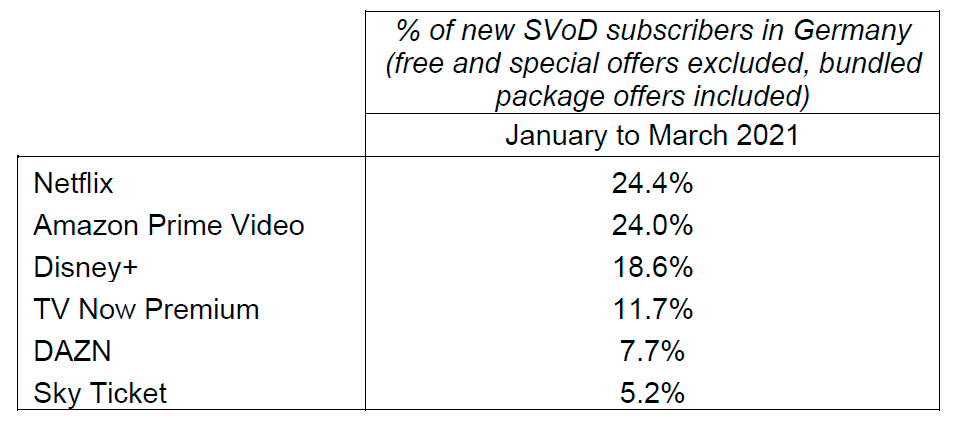 At the end of March 2021, 49.2% of German households had SVoD subscriptions connected. On the one hand, this demonstrates the high level of acceptance among Germans for paid streaming services, but on the other, it also shows that the industry's offerings still have great potential for growth. In terms of new subscriptions, Netflix was able to just barely hold on to the top position in the first quarter, ahead of Amazon Prime Video. However, Amazon Prime Video is leading Netflix in terms of total subscribers and has 1.22 million more active users than its competitor.
Amazon Prime Video benefits greatly from being a part of Prime membership. The reason for this being that Prime has experienced a significant increase in its number of users as a result of COVID-19 and the accompanying ongoing trend towards increased online shopping. As of the end of March 2021, 46.4% of German households had an Amazon Prime membership. Of those, 71.7% were active users of Prime Video – a significantly higher proportion than in the UK or the US. One interesting point in this context: only around a quarter of German SVoD households are content with one streaming provider – as many as 73% of SVoD households already subscribe to two or more streaming services.
Most popular shows: 'Vikings', 'The Walking Dead' and 'Money Heist'
In the first quarter of 2021, the most popular show among Germans was 'Vikings', which is available on Amazon Prime Video. It was followed by 'The Walking Dead' and 'Money Heist'. The Netflix production 'Dark' was the most successful German title occupying the 13th spot, while Disney+'s 'The Mandalorian' also remains popular at number 8. The recently released series 'Wandavision' (also Disney+) came in at number 14.
Netflix has the highest customer satisfaction
While Amazon Prime Video is the overall leader in terms of subscribers, Netflix scores highest when it comes to member satisfaction. Netflix customers especially value the breadth and diversity of the content offered and the amount of self-produced material. The German providers TV Now Premium and Joyn Plus+ came out on top in the price-performance ratio category. As far as the quality of the offer is concerned, Netflix and Disney+ are almost equal. Netflix's stated goal of providing a growing number of new releases is paying off. Satisfaction with the selection of newly released content is significantly higher at Netflix than at its competitors.
As market penetration of SVoD offerings continues to increase in Germany, there are clear signs that consumers are becoming more active in organising their video streaming subscriptions. At least 14% of consumers who signed up for a new SVoD subscription in the first quarter of 2021 cancelled an existing subscription to do so. And 13% of consumers who had previously turned their backs on the SVoD market altogether signed up for a new subscription and rejoined the market.
The number of SVoD options is increasing and at the same time the offers are becoming more and more fragmented. Consequently, consumers are looking for ways to limit their spending while also being able to consume the content they want to. This trend will continue to accelerate and force SVoD services to focus more on customer loyalty than before and to develop a long-term interesting service proposition.
More information and data on the EoD market in Germany are now available and can be found in our data visualisation tool.