Kantar's EoD study in Germany uncovers the following behaviours within the Video on Demand (VoD) market between September to December 2022:
Between September to December 2022, the number of VoD-enabled households that subscribed to at least one video streaming service in Germany rose to 22.4 million, up +555k, quarter on quarter, representing 54% of households
4% of German households took out a new streaming subscription during the final quarter of the year, down from 5% a year earlier
The total number of video streaming subscriptions rose by 1.6million in the quarter with Prime Video & Netflix driving the major gains
Wednesday on Netflix was the most popular SVoD title in December, followed by The Lord of the Rings: The Rings of Power on Prime Video and The Crown on Netflix
However, the proportion of consumers planning to cancel one or more SVoD services in the next quarter rose significantly to 23% up from 19% a year ago, indicating a challenging start to 2023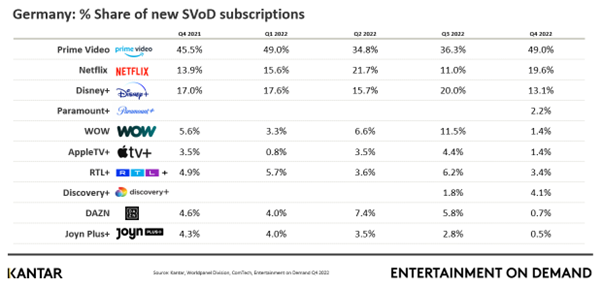 Prime Video spearheads jump in German SVoD households
The German SVoD market grew strongly in the final quarter of 2022, with more than half a million additional German households entering the SVoD category.
Dominic Sunnebo Global Insight Director, Kantar, Worldpanel Division comments, "Prime Video had a strong final quarter of the year, with half of German households now holding Prime membership for the first time. Prime Video engagement grew off the back of this, with over 70% of Prime members also active Prime Video users. 49% of new SVoD adds in the quarter went to Prime Video.
Newly launched Paramount+ achieved 2.2% share of new sign ups in the latest quarter, another new player in an increasingly competitive market.
Discovery+ continues to grow in Germany after its Summer launch, taking 4.1% of new subscriptions in the quarter. However, subscriber feedback highlighting experience issues with the interface and subsequently leading to lower-than-average advocacy rates may temper growth in the short term.
Netflix Ad supported tier boosts new subscriber count
Netflix enjoyed its best quarter for share of new subscribers since March 2021, winning 20% of new sign ups in Q4 2022. Stranger Things (8%) and Wednesday (8%) were tied as the top two titles responsible for driving the largest proportion of new subscribers to the service. There was a notable increase in new Netflix subscribers who said they saw an advert for the service on social media, highlighting Netflix more aggressive acquisition strategy in Germany. Early data highlights that Netflix new ad supported price tier was deemed attractive to new subscribers, with 17% of new subscribers in the quarter choosing the lowest priced, ad supported option.
Wednesday dominates
Netflix hit Wednesday, an Adams family spin off starring Jenna Ortega & Catherine Zeta Jones, dominated the most enjoyed content during Q4 2022, with 16% of all VoD subscribers citing it as their most enjoyed title. This was followed by The Lord of the Rings: The Rings of Power on Prime Video and The Crown on Netflix. The White Lotus which has seen rave reviews and scored major success in both the US and UK, failed to impress in Germany, with just 0.2% of Germans saying it was their top title in the quarter. 1899 on Netflix, a well-reviewed multilingual German period mystery series performed well, the fifth best performing title of the quarter, however Netflix has since cancelled the series, and confirmed no series two will be forthcoming.
House of Dragon, a double-edged sword for WOW
After hitting a record high in terms of share of new subscribers in Q3 2022, off the back of the House of Dragon launch, WOW saw its share fall significantly in the final quarter of the year, to just 1.4%. Perhaps a sign of over reliance on its hit title, WOW's churn was significant in the final quarter, with 15% of those leaving the platform stating it was because they just wanted to watch a specific title, with House of Dragon the top title cited.
Access the interactive data visualisation for more information.