Kantar's Entertainment on Demand study in Great Britain has uncovered the following behaviours within the video on demand (VoD) market over the 3 months to December 2021:
Between September to December 2021, the number of VoD-enabled households that subscribed to at least one video streaming service in Great Britain grew to 17.1 million, up almost 400k, quarter on quarter, representing 59% of households.
6% of households in Great Britain took out a new video streaming subscription in Q4 2021, slightly up on the same period in 2020.
34% of subscription video on demand (SVoD) subscriptions taken out in the quarter were by households who were new to the SVoD category, with stacked subscribers (40%) now the largest single driver of new subscriptions.
Netflix's Squid Game was the most enjoyed title in Q4, followed by Disney's Hawkeye.
Despite Prime Video taking a 45% share of new SVoD subscribers, big budget series The Wheel of Time was the only Prime Video title to make it into the top 10 most enjoyed titles across Great Britain, coming in at number 5.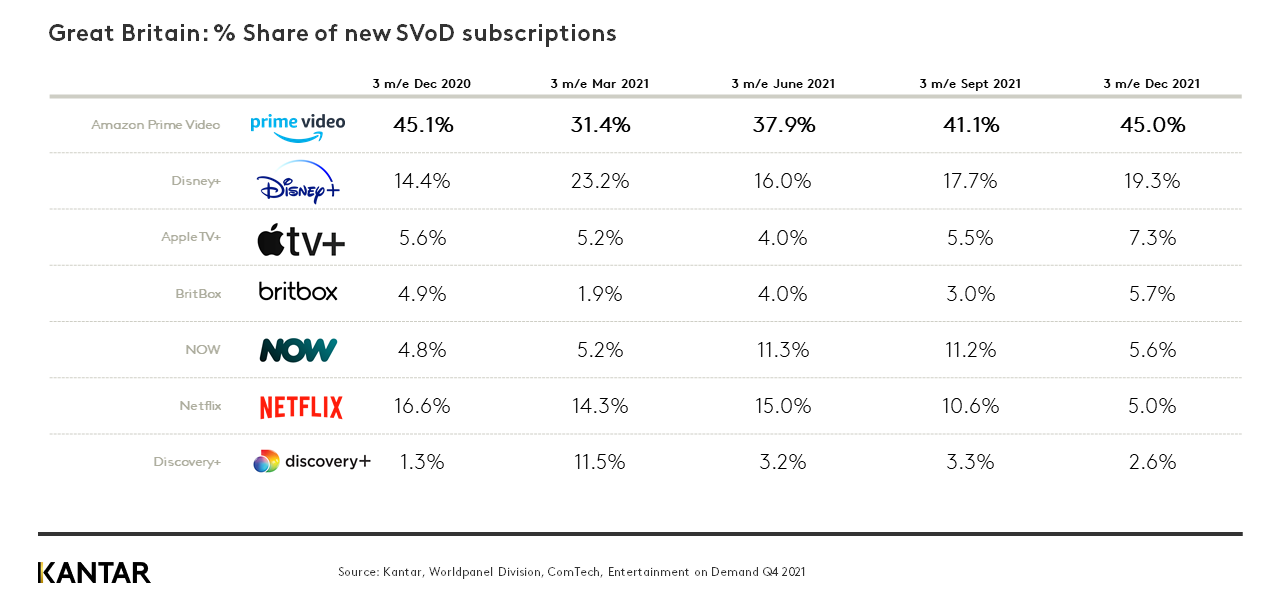 Squid Game: lots of buzz, little impact?
Almost everyone has by now heard of Squid Game, Netflix's Korean Drama that took over global Twitter feeds for weeks. It managed to create buzz like no other title has for some time. But can we always directly associate buzz with commercial success?
Netflix's customer base essentially remained flat in Great Britain Q4 vs. Q3, gaining around 70K new subscribers, while Prime Video gained over 700k in the same period. Netflix's share of new SVoD subscribers in Q4 was closer to that of AppleTV+, NOW or BritBox than it is to Disney+ or Prime Video.
The Net Promoter Score of Netflix, a measure of subscriber advocacy, was down 3 points over the year (although saw an increase vs. the previous quarter). There was a small increase in Q4 in the proportion of users Netflix can classify as 'heavy', but nothing too dramatic. The number of consumers who say they are considering or intending to take out Netflix in the next quarter actually fell.
What do we make of this apparent disparity between title success and the little obvious impact on commercial results? Firstly, Netflix is bigger than just one title – 8 out of the top 10 most enjoyed titles over the quarter belonged to Netflix. Second, Netflix appears to be reaching 'peak penetration' in Great Britain, with around 43% of all households subscribing to or using Netflix. Those who want Netflix, already have it, whilst new buzz-heavy titles are not attracting new subscribers.
Netflix is faced with some major choices: it can accept subscriber numbers will remain broadly flat and continue to put through price rises in mature markets like the UK to increase revenue per subscriber, which generally speaking are accepted relatively easily, with no discernible impact on churn levels. If it wants to drive up paying subscribers it may to come down hard on password sharing, which has the potential to increase its subscriber numbers between 10-15%, but is not without significant risks. It could also accelerate diversification, as it has done in the US by a move into mobile gaming, to increase its pull among new untapped audiences. It could decide to reintroduce free trials, reversing its previous decision, a tactic Prime Video uses to impressive effect.
The remaining two major strategies available are areas Netflix has shown no appetite for, but are increasingly where its competitors are focusing: live sports streaming and ad-supported tiers. Netflix has a huge, highly engaged, very satisfied, loyal subscriber base, but what it lacks at the moment in mature markets like the UK is a compelling strategy for growth.
There are a number of growth options available to Netflix, but right now, it's not employing any of them to great effect in across Britain. 2022 is therefore going to be critical to its growth strategy. Whichever option it chooses will create risks, but they will be needed to drive growth in this maturing market.
Prime Video flying, but dig beneath the surface
Q4 tends to be a huge quarter for Amazon and 2021 was no different. Amazon persuaded another 3% of British households to sign up for a Prime subscription, meaning 56% of households now have access to Prime Video, alongside the multitude of other Prime offerings. It is therefore no surprise that Prime Video secured 45% of new SVoD subscriptions in the holiday quarter.
In terms of its share of actual subscribers, Prime Video is catching Netflix at an astonishing rate: back in Q1 2020, there was a seemingly unsurmountable 30-percentage-point gap between the two services; by December 2021, that gap had closed to just 11 percentage points. Recent trends suggest Prime Video could be set to overtake Netflix in absolute subscriber numbers by Q4 2024.
However, if you dig a little deeper, there are some important data points that highlight some of the challenges Prime Video still faces. Netflix stopped providing access to free trials in late 2020, but this remains a crucial tool for Amazon to drive Prime Video membership – in Q4 2021, 41% of its new sign ups were through free trials. The Prime Video Net Promoter Score has fallen over consecutive quarters throughout 2021, with advocacy rates for Prime Video below major competitors. This is brought to light by the reality that there is just one Prime Video title in the top 10 most enjoyed VoD titles across Great Britain in Q4. Wheel of Time is the most expensive show Amazon have ever made, costing $10m per episode, but in Great Britain Clarkson's Farm was responsible for an almost equal number of new-content-driven subscribers in Q4.
In terms of engagement more generally, proportionally Netflix has 53% more heavy users than Prime Video. Kantar's Entertainment on Demand data shows that among consumers that have both services in their household, when asked to rank Netflix vs. Prime Video in order of importance, only 1 in 4 reference Prime Video as the most important.
Prime Video is a service flying high in terms of subscriber growth, but is struggling to engage its base to the same extent as some of its counterparts, relying instead on the wider pool of Prime services to create a sufficiently sticky bond with its customers. In fact, virtually the exact opposite problem to Netflix.
Disney reaches record level of subscriber advocacy
Disney+ enjoyed a strong Q4, with share of new subscribers up 5 percentage points vs the same period last year, to 19.3%. Marvel-based miniseries Hawkeye was well received by subscribers, holding #2 position among most enjoyed VoD titles in the quarter, whilst overall Disney+ subscribers show a significant increase in satisfaction with the number of New Release films made available on the service.
Disney+ rounded out the year closing in on 1 in 4 VoD enabled households subscribing to the service across Great Britain.
AppleTV+ & BritBox hit record share
AppleTV+ continues its strong streak, achieving a record 7.3% of new SVoD subscribers in the quarter. Emmy-award-winning hit series Ted Lasso continued to prove a key driver for customer acquisition in the quarter, with Finch and Foundation also playing a key role in helping AppleTV+ achieve its highest ever share.
BritBox also enjoyed a record quarter, with share of new subscribers reaching to 5.7% in Q4 2021. BritBox continues to draw new customers in with high profile series such as Dr Who, Downton Abbey and Spitting Image. Whilst BritBox appeals well across the age spectrum, almost 3 out of 4 subscribers are male, indicating it is someway off generating mainstream appeal.
It's clear from these latest findings that the British VoD market is maturing, and consumers are reaching a peak on the number of services they're willing to take out. This is going to make market acquisition and churn rates harder for platforms to manage, especially as more entrants join the market. To make 2022 a success, they will therefore need to re-evaluate what strategies they can deploy to kickstart rapid growth again.
Access the interactive data visualisation for more information.