Targeting to deliver 30%+ higher Marketing ROI and 10x-20x return on your investments on Unified MMO, while synching with your marketing effectiveness journey and decision needs.

20% increase in ROI due to optimized media mix


17% Sales increase in just 6 months (recent clients have seen this)

42% increase in profit


Reduction in annual churn by 9.2% across entire product portfolio
See what our clients have to say about UMMO
"Because of the UMMO Hamilton.AI model and the optimisations we're running, we have been able to optimise our future media mix to improve our return on investment to incremental revenue by at least 20%."
Liam Loan-Lack, CMO, My Muscle Chef
"The UMMO Hamilton.AI predictions helped us achieve 96.97% accuracy in sales prediction based on the recommended media mix. The predictions turned out to be quite rigorous and correct time after time."
Per Christian Werenskiold, Marketing Strategy and Effectiveness, Telenor
"UMMO Hamilton.AI has improved our marketing team's effectiveness by providing comprehensive insights beyond media implementation. These insights help us optimise our media spend, non-media mix, and budget toward brand building, resulting in better overall performance. With UMMO we can focus on long-term brand building and planning."
Owain Jevons, Marketing Performance and Planning Manager, TSB Bank
You can find links to our latest thought-leadership articles below:
In this article, How UMMO works for Auto, you will learn how Kantar helps the automotive industry thrive and recover from the aftermath of supply chain issues, more people replacing air travel with cars, oil price daily/weekly fluctuation, etc.  Auto manufacturers need granular insights on a daily rather than a yearly basis to compete in the rapidly changing, by the minute market.
Creation of a truly unified marketing measurement and optimisation framework is now highly achievable through automated data collection and applying AI.
UMMO is The Tool that Helps Marketers Future Proof Spend 
We unravel the criticism of marketing ROI as a key metric and 
explore how to achieve balance between short and long-term measurement.
It's more important than ever to protect marketing spend during this period of economic uncertainty.
Optimizing Brand-Building on Meta
Why do the world's top brands perform well through good times and bad? Why do their consumers show them brand love, but more importantly, buy their products even without prompting? As a marketer, how do I use my advertising spend to achieve the same result for my brand?
In this case study, we'll look at why brand equity matters and which media channels drive it most efficiently. This paper dives deep on Meta, which our research shows is a highly efficient brand-building platform. We'll share tips on how marketers advertising with Meta technologies can optimize their brand-building investment for long-term brand growth.
IPA Effectiveness Award
2022 Silver for submission 'Making Purpose Taste Good' with Waitrose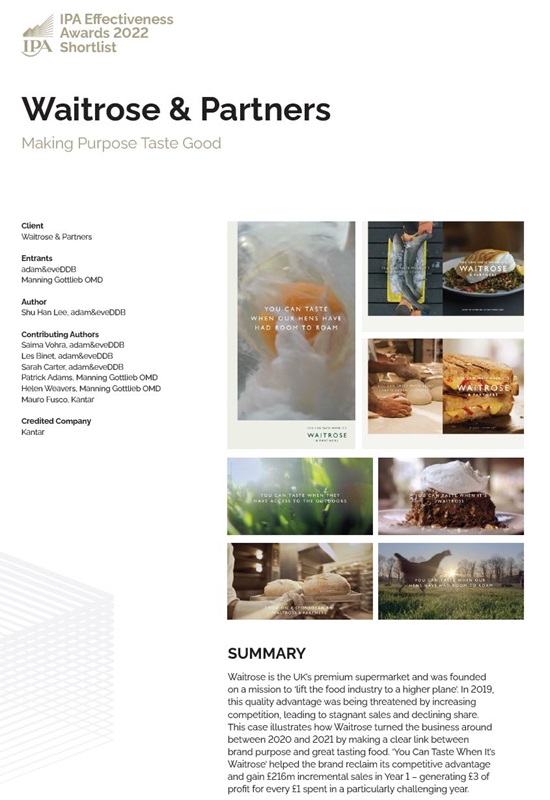 Related solutions
UMMO puts you in control of your marketing budget and allocation, by providing guidance on two levels to unify decision-making capabilities, the "big picture" strategic allocation of budgets across marketing levers while enabling tactical decisions and in-flight allocation of marketing dollars