Attention matters because it is closely related to memory. What goes unnoticed will not be remembered, so brands need to compete to have a place in consumers' mental space. Recognising this pivotal role, the advertising industry is increasingly focusing on capturing and retaining attention. This emphasis on attention is also driven by recent factors such as restrictions on cookie-based targeting, and the evolving understanding of attention measurement beyond just
click and views
.
W. James
claimed in 1890 that '
Everyone knows what attention is
', but it is now acknowledged to be a more complex phenomenon with no single, widely accepted scientific definition. Kantar's preferred definition is relatively simple but comprehensive approach of Standford's Knudsen - which is via
four fundamental processes
: working memory, top-down sensitivity control, automatic bottom-up filtering for salient stimuli, and competitive selection.
Not all attention is created equal
Attention is not just a yes or no matter. Beyond whether consumers are paying any attention, it is important to understand how long they are paying attention for, the depth of their attention, and what precisely they are paying attention to. This helps advertisers to make educated decisions on maximising creative attention, tailoring to context and ad placement to help optimise the impact of campaigns.
Data from one of our attention measurement partners, Realeyes, highlights that attention profiles are different in each environment. The average time participants pay attention to ads, indicated by the passive attention measure, diminishes more quickly in short formats (Instagram & Facebook stories and TikTok) and feed formats (Facebook and Instagram), emphasising the need for clear brand presentation within the initial seconds of these ads. Conversely, in stream formats we see lower attention during the initial seconds, however with a less dramatic drop in attention as the ad plays.
Passive attention profiles per format by second of creative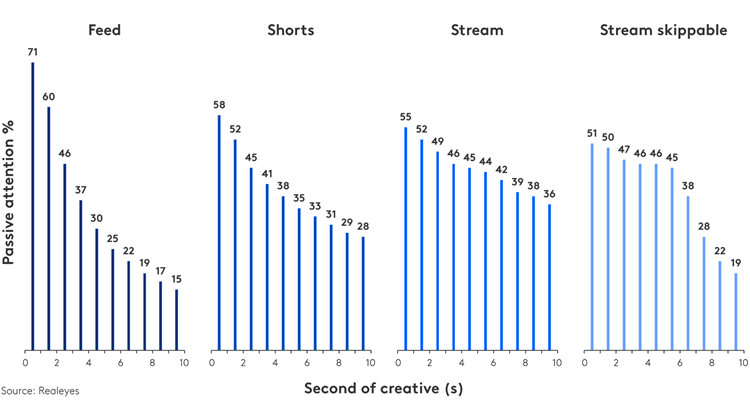 A new way to look at attention
The first task for an ad is to be viewable, the second is to get attention, and finally to generate an emotional reaction– as we know emotional engagement in advertising is
key to success
. We use the term 'active attention' to refer to consumers' emotional engagement with the ad for each second the ad was playing. Kantar's new attention framework analyses the relationship between ad playback, passive attention, and active attention, with comparison to norms and second-by-second traces to diagnose where attention is lost. The new comprehensive look at the depth of attention presents the ability to assess the eyes-on-screen moments through passive attention, and how much of it also generates a reaction through active attention.
Measuring attention as part of creative assessment is not new to Kantar. We've been measuring attention for over a decade using facial coding. Advances in gaze measurement technology have allowed us to upgrade to more accurate and sensitive attention measurement. The measures in our new attention framework incorporate more sophisticated low attention signals like gazing away, speaking, and drowsiness.
Attention data from
Affectiva
, Kantar's long-standing attention measurement partner, also demonstrates how attention varies by context. Interruptive environments, such as YouTube and Youku, tend to create higher overall visibility compared with social media ads (Facebook, Instagram, TikTok, X (Twitter)) - where the ad exposure is not forced. However, social media platforms have a higher ratio of passive attention per visible second. This further highlights that advertisers should aim for more than just viewability, and tailor creatives with consideration of attentive times based on the nature of the format and the platform. When it comes to active attention, we don't see such a difference. This is perhaps because active attention is primarily dependent on the creative content, more so than which platform it is on.
Playback profiles per platform (Averages reported)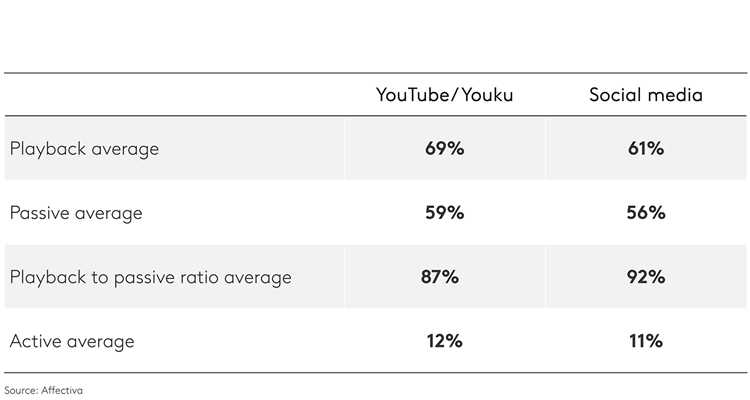 Incorporating attention and attitudes
Attention is a crucial steppingstone for creative effectiveness but not sufficient on its own. Measuring attention for advertising impact becomes more meaningful if it is understood in the light of attitudinal metrics.

We tested a recent Apple Pay digital ad, Dance, with LINK+, Kantar's flexible and agile ad testing solution. The humourous 30-second copy shows a customer struggling to get her card to work on a card reader in a supermarket. The ad concludes with the juxtaposition of another customer paying effortlessly via Apple Pay, finally revealing the brand.

Second-by-second attention analysis showed that the initial moments were not attention grabbing, as playback and passive attention starts dropping right from the first few seconds. When we looked at what generates a reaction from viewers, we saw that it was mainly the relatable moments of the customer and her interaction with the cashier. However, this diminished towards the end, and especially during the product and brand reveal.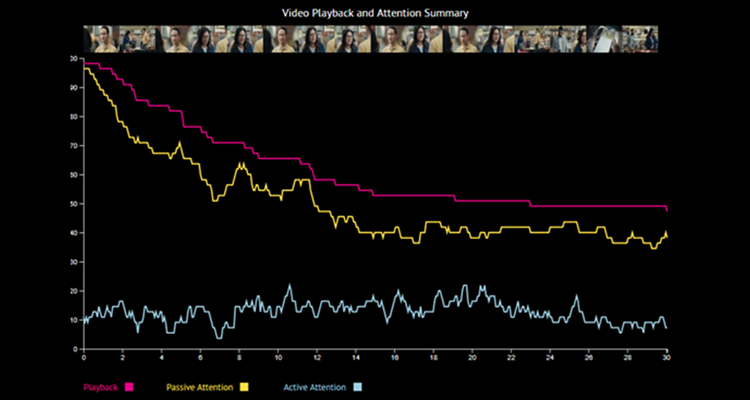 In line with the dynamic active attention during the customer-cashier scenes, we see that the relatability and humour intended in these moments comes through. The ad was placed in top 25% for Enjoyment, and top 30% for Ad Distinctiveness among the LINK+ digital tests conducted in the US market. Also, as viewers often stopped watching by the time the brand was introduced or weren't as engaged if they continued to watch, association with the brand was not strong.

Kantar is a world leader in understanding creative attention with the biggest normative database in the market, consisting of observed human attention data for over 50,000 ads and survey responses about advertising attitudes for over 250,000 ads. Kantar's attention framework is available in LINK+ for digital and TV ads, as well as Context Lab.

To find out more about how we can deliver meaningful attention insights to optimise your creative, request a demo of Context Lab or LINK+ on Kantar Marketplace today.