Apple. Chances are when a consumer anywhere in the world hears this word, they are just as likely to think of well-designed, best-in-class phones as they are the fruit. Apple achieved the number one ranking on the Kantar BrandZ Most Valuable Global Brands 2022 list and is on track to become the first trillion-dollar brand. With a brand value of $947.1 billion, Apple stands out for its high degree of differentiation and continued diversification across its hardware, software and services portfolio. Apple has been revolutionary, starting with computers, they changed the handheld technology industry with their iPod and iPhones, and have only expanded their portfolio of offerings. Now Apple is a phone, a watch, a laptop, a tablet, a streaming service, a protector of digital privacy, all of which resonate with consumers. With a 55% increase in brand value, Apple rose one position to secure the number one spot on Kantar BrandZ global rankings for the first time since 2015. Considering that Google and Amazon fill the number two and three spots this year, Apple's advancement is no mean feat.
Apple founder Steve Jobs believed that his customers were just a bit different and the current brand rankings prove his inclination was not just a slogan but a brand promise. Apple's brand superpower lies in its Difference. No other brand in the Kantar BrandZ Global Top 100 has a higher score (theirs is an index of 197) for this crucial attribute. Kantar's BrandZ measures how meaningful (for Apple 111), how different, and how salient (for Apple 132) brands are to consumers. This Meaningfully Different framework reveals the value as brand equity accumulates in the minds of consumers. This includes impact on penetration and market share, willingness to pay and future growth potential. Our metrics are the summary of the mental connections the consumer has to a brand.
Like Amazon, Apple is now extending their reach into the sports partnerships and broadcasting space. In March 2022, Apple and Major League Baseball announced that Apple TV+ will host two games every Friday night. Additionally to games, Apple TV+ is beginning to produce live sports commentary shows that feature 'highlights and look-ins airing every weeknight during the regular season. Baseball fans in the US and Canada will also have access to a new 24/7 livestream with MLB game replays, news and analysis, highlights, classic games, and more, as well as a full complement of on-demand programming, including highlights and MLB-themed original content.'
Per Kantar's Worldpanel Entertainment on Demand division, providing new content can directly lead to an increase in streaming service subscriptions. Apple TV+ experienced 43% of new subscribers for specific content releases, and 2.7% of these subscriptions were tied to their MLB offering. Amazon Prime Video experienced 32% of new subscribers as well, with 2.9% of them directly correlated to their NFL offering.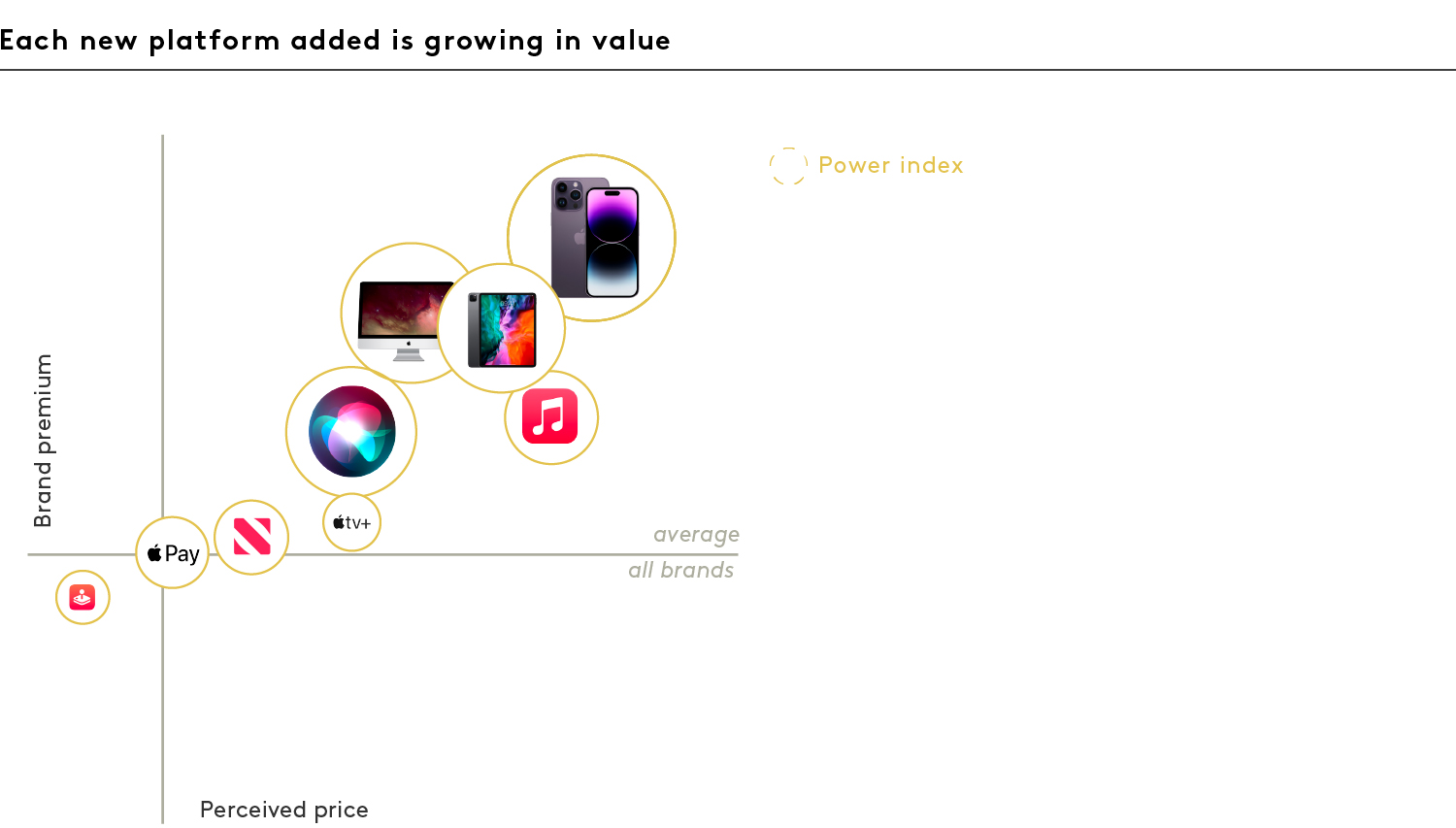 Going into 2023, Apple Music will be the new sponsor for the Super Bowl Halftime Show. Oliver Schusser, Apple's vice president of Apple Music and president of Beats said "music and sports hold a special place in our hearts, so we're very excited Apple Music will be part of music and football's biggest stage. We're looking forward to even more epic performances next year and beyond with the Apple Music Super Bowl Halftime Show." In 2022, the Super Bowl LVI Halftime Show had over 120 million viewers, only growing their reach. A recent Kantar study, sourced from the Profiles Audience Network, found that of the people who regularly watch the Super Bowl, 26% of people tune in with their top reason to watch being the halftime show.
Apple created an ecosystem built on premium pricing. With the sponsorship of the Super Bowl Halftime Show, Apple is investing in their lower perceived premium services and products, such as Apple Music and Apple TV. Each of the other products (iPhone, computers, iPads) are well above average when it comes to brand perceptions and their perceived price.
Also in February 2023, Apple is partnering with Major League Soccer to launch 'MLS Season Pass'. This new subscription service on Apple TV+ will allow soccer fans in over 100 countries access to every MLS match and will tie Apple and the MLS together for 10 years. Eddy Cue, Apple's senior vice president of services, said "there isn't a more perfect time to introduce MLS Season Pass, coming off the heels of the most dramatic MLS Cup in history and with MLS as the fastest-growing soccer league in the world."
Apple will also be in the running to acquire the rights to the National Football League's Sunday Ticket service, a highly sought-after program that all the major streaming services will be looking to acquire, including Amazon who began their 11-year Thursday Night Football partnership with the NFL this year. Yet this new deal with the MLS increases the chances of Apple getting the NFL streaming bid, per Loup Funds managing partner and co-founder Gene Munster.
American sports aren't the only partnership Apple is looking into either. After confirming the launch of MLS Season Pass on the Apple TV app for next year, the company is now reportedly considering acquiring the broadcast rights to Dutch soccer league Eredivisie. The current Eredivisie rights deal with ESPN does not expire until 2024 but Apple's early interest demonstrates their immense interest in bringing more sports content to their streaming platforms.
Apple continues to evolve and revolve around their consumers experience and their emotional connections. This consumer experience focus brought the company from first a product focused technology company to seeing the company expand into entertainment with the introduction of Apple TV, Apple News, Apple Fitness, etc., and will only grow further as Apple aligns with the sports broadcasting industry.