Singles Day 2021 marks the 13th time that China's largest annual online sales event has been held. China's Singles Day is undisputedly the largest ecommerce sales event in the world, with its GMV (Gross merchandise value) on 11 November larger than all other major ecommerce sales events combined.
About 15 years ago, young people in China jokingly named 11 November as "Singles Day" because all digits for this day are the lonesome "1". Alibaba Group saw a commercial opportunity and, in 2009, launched an online sales festival to "celebrate" Singles Day. Now it has become a well-established annual event when all businesses in China jointly launch big promotions and consumers would aim to purchase the "best deal of the year".
The official figures from Alibaba, which owns Taobao.com and Tmall.com, showed that it generated 540.3 billion RMB (US$84.54 billion) in GMV during the 11-day campaign, an 8.45% increase from a year ago. Another major ecommerce platform, JD.com, announced that its sales reached 349.1 billion RMB, an 28.58% increase from last year. Even though both are significant growth rates against the backdrop of the COVID-19 pandemic, they are lower increases than previous years.
To help brands and marketers better understand the ever-changing Chinese consumer behaviour pattern and attitudes, as always, Kantar in China launched its post-Singles Day survey through its validated, registered WeChat panel. We collected 1,000 valid answers from representative respondents from 12 to 15 November.
Below are some key insights:
1. Traditional ecommerce platforms have saturated their penetration growth. Live streaming shopping channel is the only bright spot when it comes to new shopper growth.
Singles Day shopping began on PC platforms and underwent an explosive growth thanks to mobile Internet. However, traditional ecommerce platforms, both on PC and mobile devices, have saturated their penetration. Live streaming shopping, on the other hand, has achieved persistent and organic growth even after COVID-19 lockdowns were lifted, becoming the second largest shopping channel of choice during Singles Day.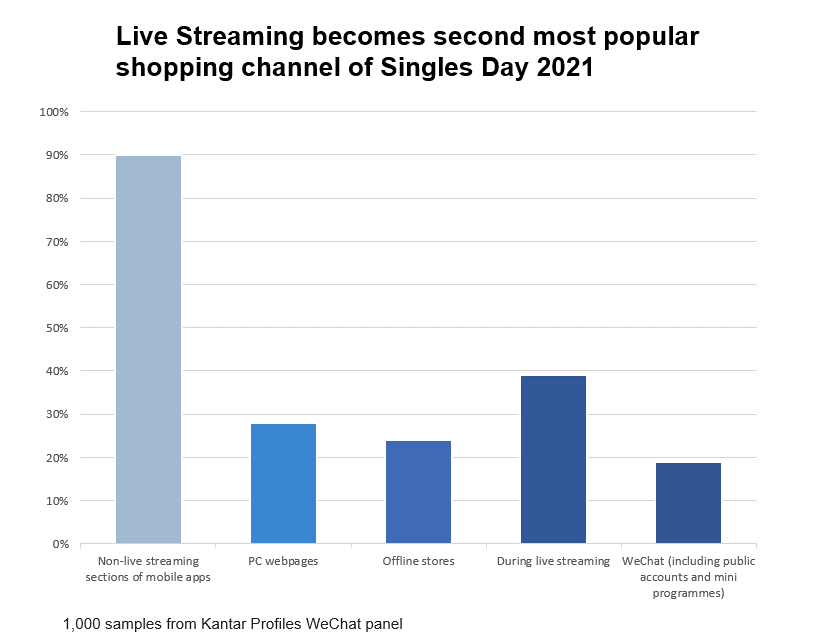 This trend is well reflected in consumers' choice of specific shopping platforms. When asked about where they'd shopped during this year's Singles Day, the traditional trio of giants JD.com (71%), Taobao (70%) and Tmall (55%) were still the top 3 most mentioned retailers. Social retailer Pinduoduo (37%) was number 4. But all platforms were mentioned less frequently than last year.
Douyin, the Chinese version of Tiktok, was the only shopping platform that had significant increase in mentions (18% vs 13% in 2020). In addition, Douyin had a very young shopper age mix: among all those who mentioned buying from Douyin, 41% were below 24 years old, compared with last year's 10%. This showed that Douyin has made great progress in turning its formidable share of people's attention into a sizable share of consumers' wallets.
WeChat accounts/mini programme was mentioned by 8% of respondents, the same as last year.
2. Brand is the most important driver of Singles Day conversion
Performance marketing has been the buzzword among Chinese marketers for quite a long time. It might be even more emphasised during Singles Day season, which is all about sales. But our survey has shown that brand is the number 1 driver for consumers to make their purchasing decisions. When asked about how they'd chosen what they bought, "I continued to buy the brands I have always bought" (68%) was the most mentioned reason, and the proportion is the same as last year. "I bought those brands that I have always liked but haven't tried because of high price" (38%) and "I bought the products that I was recommended to in various channels" (36%) followed, both with lower mentioning rates than last year.
Even though top-tier live streamers Austin Li (李佳琦) and Viyaaa (薇娅) have become the synonym for livestream shopping, in fact the most attractive "live streaming rooms" were those run directly by brands, which reflected how brands' investment to build owned live streaming channels is beginning to pay off. Among the 747 respondents who have watched live streaming, 83% said they watched "live streaming from the brands I am interested in", higher than "professional KOL's live streaming" (43%) and "live streaming with celebrities" (30%).
We also asked respondents from whose live streaming rooms they'd bought their products. It seems brands have occupied the majority of the buzz, the only exceptions being the names of Austin Li and Viyaaa.
3. Expecting a more purposeful Singles Day
Now that Singles Day is in its 13th year, although deep discounts can still crack open Chinese consumers' wallets, value shopping, or even shopping itself, has become increasingly ineffective in exciting Chinese consumers. They are not only interested in "what I can buy", but also "for whom I am buying" and "how can I buy in a sustainable way".
In this year's survey, we asked who they were buying for. Around 92% said "I am buying for myself", followed by "my spouse/lover" (55%) and "my child(ren)" (52%). "My parents/senior relatives" were mentioned by 29% respondents, the fourth highest.
Sustainability has also become a key theme of this Singles Day. During our survey, 56% respondents said they've noticed brands/retailers' attempts to support sustainability or reduce carbon footprint. When we asked what specific thing gave them this impression, many people mentioned changes in packaging, including "recyclable packaging", "reusable packaging", "less packaging", "many brands are using reusable packages".