Looking at the first six months of 2021, fast-moving consumer goods (FMCG) sales in China were 5.8% higher compared to the same period in 2020, according to our panel data. Compared with the same period in 2019, the market reported a sales growth of 3.8%, indicating that a recovery is well underway.
The South region and ecommerce channel continued to make major contributions to overall FMCG growth. As the weather turned warmer, the beverage and personal care sectors grew by 14.5% and 9.8% respectively year-on-year. China's second quarter GDP grew by 7.9%, suggesting the country rebounded well from the disruption caused by the pandemic.
The out-of-home food and beverage categories increased by 15.1% in the second quarter, compared to Q2 2020. As travel restrictions eased, many consumers are now back to their normal day-to-day lives, and the impact of this can be seen in the rapid recovery of the out-of-home market. Products sold through on-premise channels reported surging sales, with ice-cream and beverages showing strong growth.
Big-format stores are launching new models to counter growth pressure
Modern trade (including hypermarkets, supermarkets, and convenience stores) reported a sales dip of 4.6% compared to the same quarter in 2020. Small supermarkets and convenience stores sustained growth, yet at a slower pace: with 4.4% and 1.7% year-on-year increases respectively. Sales in large supermarkets and hypermarkets fell by 7.2% and 7.7% respectively. This indicates that proximity and convenience channels remain a favourite choice for many consumers since the outbreak of COVID-19.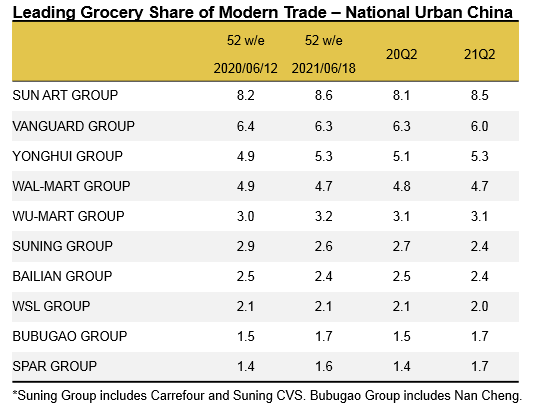 Source: Kantar Worldpanel China
Among the major players, Sun Art Group maintained its leading position with a value share of 8.5%, up 0.3 percentage points year on year. Sun Art Group has announced plans to develop more medium-sized stores this year in order to expand the density of store networks and improve accessibility.
Yonghui grew its business by 0.2 percentage points to 5.3% share of the total market. Over the last three months Yonghui opened more than 30 warehouse hypermarkets, featuring selected core SKUs and everyday low prices to attract mainstream shoppers. The model is different from the newly emerging membership store launched by Costco, Hema X and Metro Plus, which are targeting the loyal middle-class shoppers with exclusive product offers and a full range of services and experiences. As big-format stores continue to face strong competition from ecommerce and emerging retail business models, such as community group buy, the return to selected but quality product offers is a sign of how offline stores can maximise their value proposition to key shopper groups.
Regional retailers continued to make notable gains in Q2. Both Bubugao and SPAR grabbed a 1.7% share of the total market. Bubugao expanded its market in the south and west, up 0.3 percentage points at total national level. While SPAR mainly grew in the North, increasing its national share by 0.2 percentage points year on year. Jiajiayue, a member of the SPAR family, started expanding its presence outside Shandong province and also invested in its supply chain in nearby Northern provinces to empower more regional players.
Online to Offline (O2O) is here to stay
Despite most consumers returning to their normal life, the shopping preference for ordering online from an offline store and taking delivery at home or in the office remained. Sales through O2O channels have continued to grow accordingly and, in the first half of this year, nearly 50% of Chinese urban families have purchased FMCG through O2O platforms. Major retailers and ecommerce companies are striving to develop their O2O business, many of whom have also thrived during the "618" Shopper Festival originally held by pureplay ecommerce players. Online sales of Yonghui exceeded 250 million during the "618" festival, and its order volume exceeded 3 million, which is double the previous year's amount. Carrefour's O2O business and its mini-program orders also doubled during the "618" period.
Ecommerce continues to gain share
Online shopping channels maintained a trend of growth with a 10.6% year-on-year uplift, yet saw a slowdown (of 33.2%) compared to the first quarter of 2021. The number of ecommerce shoppers is still growing, and customers shop much more frequently than they did last year. By Q2 2021, ecommerce held a 28.4% share of the total FMCG market in China. There are more than 74% Chinese urban households who purchased FMCG online during this quarter.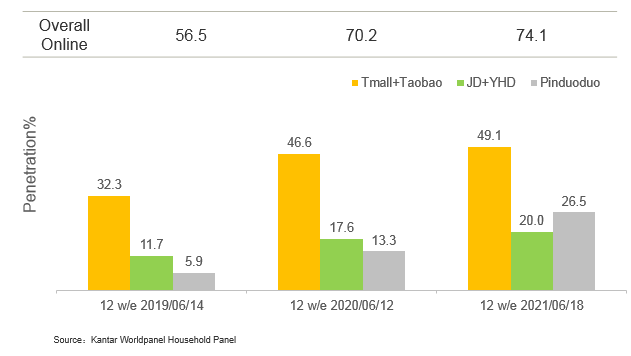 Source: Kantar Worldpanel China
Alibaba Group is leading the market among the ecommerce platforms with its market share of 43.9%, up 0.4 percentage points year on year. Around half of Chinese urban families shopped for FMCG on Alibaba platforms at least once in 2021 Q2.
Pinduoduo maintains its remarkable performance with a year-on-year gain of 5.7 percentage points in market share, accounting for 9.3% of the ecommerce market. It is well known that the number of Pinduoduo's users doubled within one year. Pinduoduo announced that they reached 800 million annual active users by the first quarter this year.
In addition to traditional ecommerce, online shopping through live streaming on short video platforms has also developed rapidly. Nearly 10% of urban households made FMCG purchases on Douyin or Kuaishou in the first half of 2021.