Kantar's Worldpanel's Entertainment on Demand study in Germany uncovers the following behaviours within the Video on Demand (VoD) market between January to March 2023:
Between January to March 2023, the number of VoD-enabled households that subscribed to at least one video streaming service in Germany rose to 22.7million, up 301k quarter on quarter, and up 1.41mn year on year, representing 55% of German households
The average number of paid subscription-based video on demand (SVoD) accounts per household exceeded 3 for the first time, with a quarter-on-quarter rise of 1.3 million new SVoD accounts in Q1 2023
You (Netflix) was the most enjoyed SVoD title in Q1 2023, followed by Wednesday (Netflix), and The Last of Us (WOW)
Sport and family friendly content prove key differentials for stacked subscription households
Prime Video, DAZN, WOW and Discovery+ achieve strong subscriber growth quarter on quarter
The only major streaming service to lose subscribers quarter on quarter, was Netflix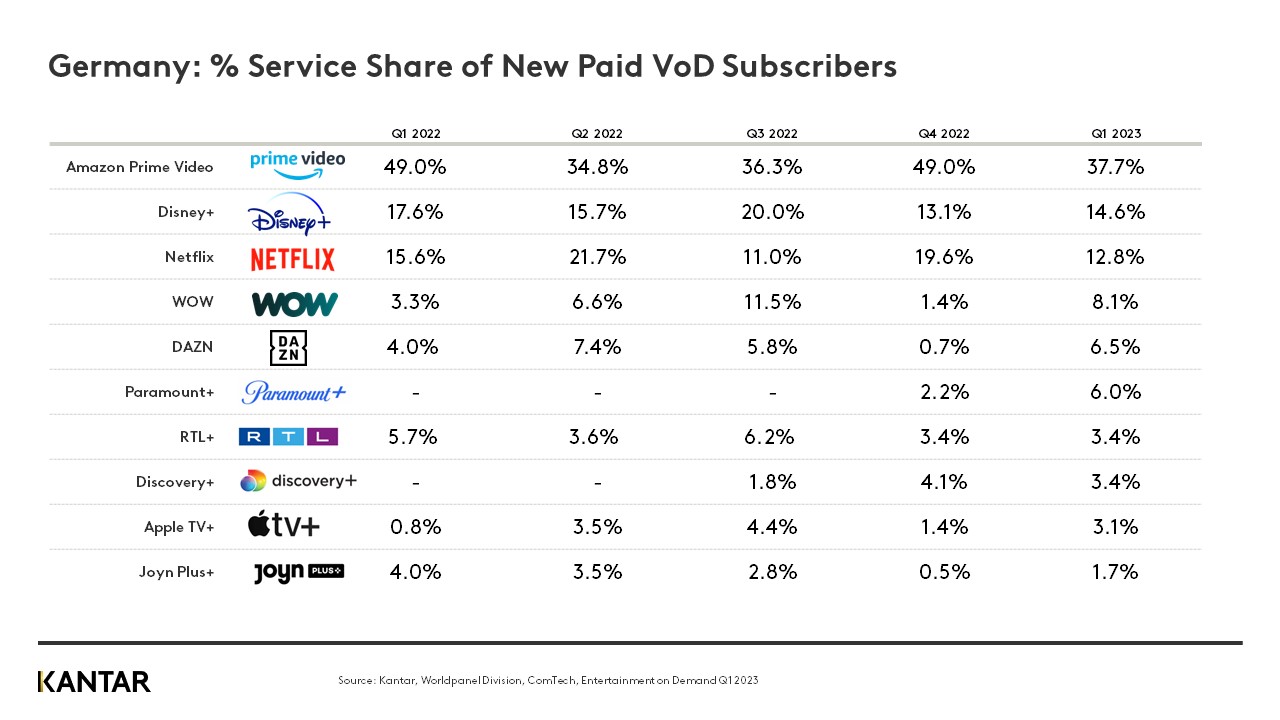 Streaming sport drives SVoD growth in Q1
The German SVoD market continued its upward trajectory in Q1 2023, with an incremental 1.3 million new subscriptions being added, and welcoming 301,270 more active households. The primary driver of this growth was live sport content. Kantar's data reveals that a staggering 1 in 4 new SVoD subscriptions were attributed to sport in Q1 2023, with football being the driving force behind this. This trend comes as no surprise considering the current environment for sport broadcast rights in Germany, with the average household requiring multiple services to access all top tier football content, let alone other sports.
The battle for sports rights has been a key factor in driving up costs for consumers. In 2022, tightening household budgets saw the exclusive sports streamer, DAZN, hit the hardest, after its subscriber base shrank by almost a one-quarter. Nevertheless, a strong start in Q1 2023 has allowed the service to make significant strides in recovering those losses and offers a promising platform to attract more of the 7.5 million German households engaging with sport content.
Another service amid the battle for sports rights is WOW. A notable sports-streaming service, which find themselves in a desirable position due to its extensive catalogue of high-quality sporting events and hit titles. Big budget launches such as 'House of the Dragon', 'The White Lotus' and most recently 'The Last of Us' has amplified WOWs reach and has started to drive conversation amongst households.
Perhaps the most satisfying feature from WOW, is that its value proposition has been a significant driver of converting new subscribers, with 24% of new subscribers in Q1 2023 citing value for money as a primary reason for subscribing, a notable increase from 8% this time last year. This trend underscores the influence of their buzzworthy titles and array of exclusive sports content. It is evident that their value proposition and content offerings have struck a chord with consumers, with their offering being unparalleled in the industry, this has undoubtedly contributed to their strong start in 2023.
Netflix under pressure as only major streaming service to lose subscribers in Q1
Despite highly successful releases such as You, and the much talked about Wednesday, Netflix had a disappointing start to 2023 being the only major streamer to lose subscribers.
Netflix were long known as the glue behind SVoD, being the driving force behind the three core pillars - high quality content, ease of access, and value. The most concerning issue for the streaming giant is the worsening value perception of their subscribers. Netflix's satisfaction with value for money has fallen from 40% to 33% over the year to Q1 2023, which is reflected by the 36% of recent cancellations being attributed to 'wanting to save money'.
These monetary concerns are causing increased churn, and with recent price rises, consumers are starting to question the once untouchable value of Netflix. Netflix need to address this issue to prevent further decline and will be hoping their recently launched ad-supported tier can aid this.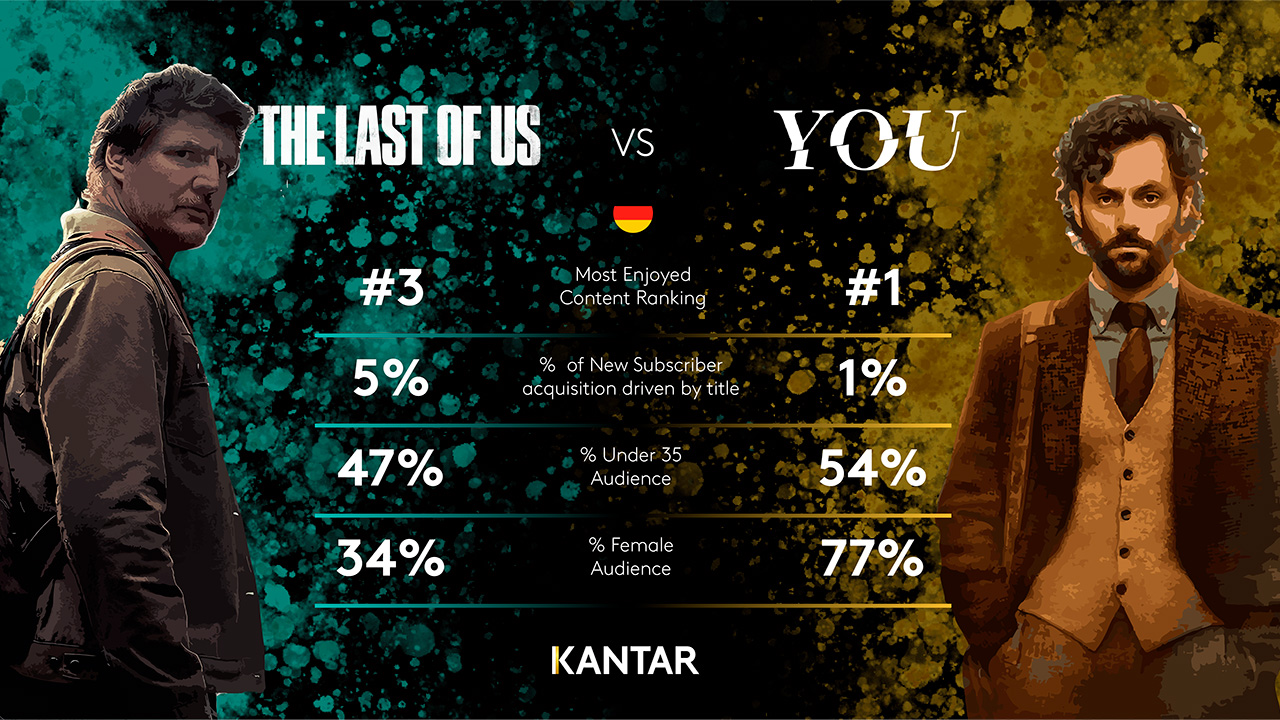 Family-friendly content boosts Disney+ success
When Disney+ launched back in 2020, there was a huge surge of consumers to the service. Disney+ utilised their well-established brand and high-quality content offering, exceeding all initial expectations and making waves in the industry. Although Disney+ struggled to get a grip on churn initially, the launch of STAR, in tandem with their seemingly indispensable family offering is now proving fruitful in an increasingly competitive market.
With 11.1 million VoD subscriptions axed over the last 12 months in Germany, VoD platforms have been forced to listen to customers, and differentiate themselves to meet household viewing needs in a cost-effective manner. A key reason for differentiation is sport content. However, sports rights are expensive and irregular, making sudden market shocks hard to respond to.
As households demand more from their services, streaming platforms must also consider the value of family friendly content in retaining customers. In Q1 2023, 10% of new subscriptions were attributed to children's content alone, up from 7% this time last year, and is one of the fastest growing influencers year on year. Do not be surprised to see services start to prioritise children's content throughout 2023, as they seek new ways of differentiation to not only drive new subscribers, but also boost subscriber retention.
Access the interactive data visualisation tool for more information.