Sales value for FMCG in Mainland China rose by 2.1% year-on-year in the 12 weeks to 3 December 2021, according to the latest Kantar Worldpanel data. The best performing regions were the South and East of the country, both of which saw FMCG sales increase by more than 3.4% year on year.
The most successful physical channel was small/mini supermarkets, which experienced a positive year-on-year growth of 8.1% as Modern trade (including hypermarkets, supermarkets and convenience stores) showed a slow recovery, yet still slipped by 0.6% compared to last year. There was also a 3% decline in sales at hypermarkets and large supermarkets.
Sun Art Group took a 8.5% value share of modern trade in the last 12 weeks, and they are followed by the Vanguard Group, which took 5.8% market share. Yonghui Group increased its share by 0.3 points to 5.6%, continuing the development of its own brand offering via omnichannel marketing.
Among the smaller players, Wu-Mart Group lost 0.3 points of share year on year as SPAR Group gained 0.2 points to hit 1.7%. Jiajiayue has recently opened its first membership store in Shandong, the first such warehouse membership store in the region's capital city Jinan.
Ecommerce continued its impressive growth, rising 12.7% compared to the last year thanks to strong performance in upper-tier cities, in which sales were up 15.9%. The consumer base for ecommerce continues to expand with 76.3% of urban Chinese households having bought FMCG on ecommerce platforms during the last 12 weeks.
Among the major players, Alibaba Group continues to lead the ecommerce market with 45.1% share, although that reflects a 4.7 points drop in value share compared to the same period last year. Competitor Taobao recently tried to improve its social credentials by launching new features like sharing shopping baskets with friends. Pinduoduo grew its market by 2.9 points year on year to 9.5% and it continues to recruit new users, although at a slower pace: levels are up 35.1% over the last year.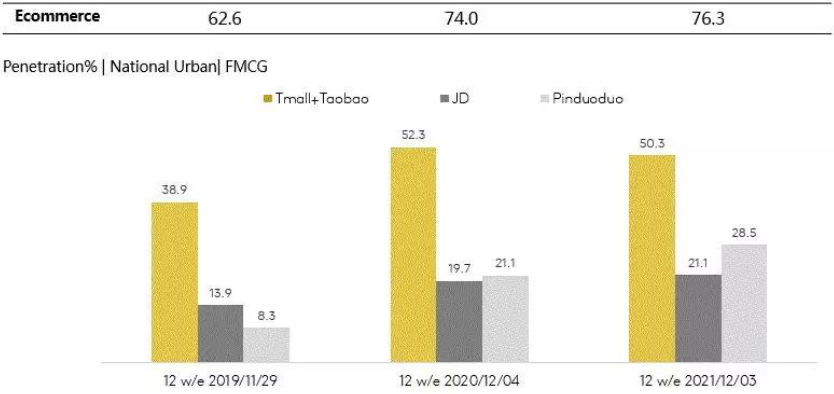 Source: Kantar Worldpanel China, 12 weeks to 3 December 2021
Thanks to Singles Day, sales via the ecommerce channel in the past 12 weeks have increased by 20.7% on the previous period (12 weeks ending on 10 September). Alibaba and JD have announced gross merchandise value (GMV) of RMB540 billion and RMB349 billion respectively for the 11.11 Shopping Festival. Growth rates have slowed down compared with previous years, but the trend of high-quality consumption continues and is expected to be a feature of the event going forward.
Access all the market share data in our data visualisation tool.