Summer travel season is quickly approaching, and many consumers gear up for personal leisure trips with family or friends. As travelers ready themselves to navigate a world without many COVID restrictions of recent years, many also may be adjusting travel plans due to an unreliable global economy.
Kantar recently embarked on new research into how consumers across the world are making purchases and managing things like planning holidays and vacations amidst variable economic conditions.
In this excerpt, we'll share how consumers across generations, personal budget flexibility, and country residence have delayed travel, planned new trips and how they plan to spend their money.
More Millennials travelled last year than older generations
Over half (56%) of global consumers took a vacation or holiday last year and 52% reported spending more than normal. Millennials were most likely (62%) to have taken a trip, compared to 50% of Boomers. Consumers with a higher level of personal economic comfort were most likely (70%) to have travelled on a personal holiday last year and 59% took a more expensive trip than they usually would.
By country, Spain (66%), China (64%) and India (69%) residents were most likely to have travelled on a personal holiday.
However, an additional 18% of consumers delayed a trip last year. This action was highest in South Africa (26%) and Brazil (23%).
Home rentals most popular among Gen Z
When planning travel, more consumers opt for a hotel stay (39%). 29% of global consumers plan to choose home rentals, though this is a more popular choice among Gen Z compared to older generations. 35% of Gen Z reported they would most likely choose a rental like Airbnb or VRBO for their next leisure trip, compared to only 24% of Boomers, and 27% of Gen X.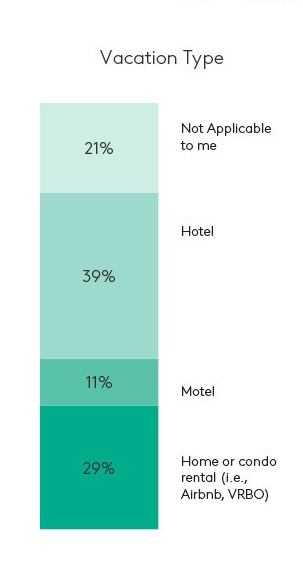 While often considered a more economical option for a holiday or vacation, renting a home or condo is similarly popular for those who struggle to meet monthly expenses (25%) as it is for those who are easily meeting their budgets (27%). This suggests that the variety of rental properties appeals to a broad range of consumers, regardless of their personal budgets.
By country, home or condo rentals are most popular in France (42%), and South Africa (40%), while hotels are favoured more by consumers in China (66%), Singapore (53%) and the UK (42%).
When choosing a hotel, travellers are more likely to devote their travel budgets toward a more luxurious hotel experience rather than budget hotels. While 40% opt for a 3-star hotel experience, 49% look for 4 or 5-star hotels when planning travel.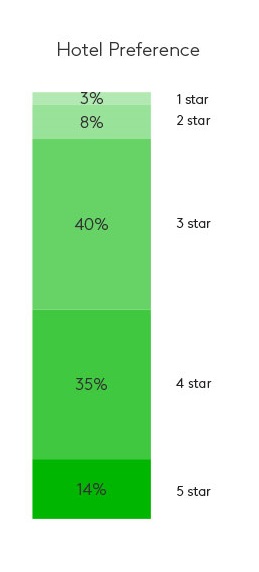 Fliers opt for economy seating, or no flights at all
The majority of travellers (60%) will opt for an economy seat on their next flight for personal travel. Globally, only 17% would spend the extra money for a premium seat or first-class. Millennials are most likely (25%) to spring for a premium or first-class ticket, compared to only 8% of Boomers.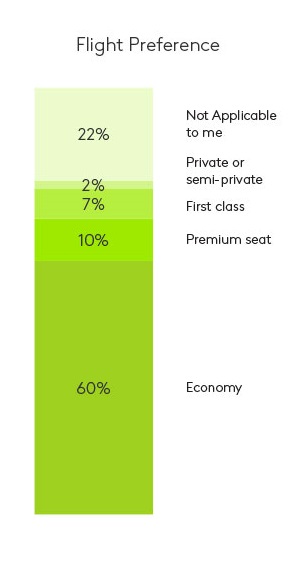 Additionally, a large proportion (22%) of consumers said flight travel isn't in the cards for them at all. Americans are more likely than other country residents to opt out of flight travel completely for their next vacation. 35% of Americans reported they wouldn't fly for their next leisure trip, compared to the 22% global average.
Get more answers
For more findings from this study, access the complete Connecting with Global Consumers report. Read about how global communities are managing their expenses, approaching real estate and travel and making financial choices.
About this study
This research was conducted online among 10,001 respondents across ten global markets: US, UK, France, Germany, India, Singapore, Spain, South Africa, Mainland China and Brazil between 29 March and 10 April 2023. All interviews were conducted as online self-completion and collected based on controlled quotas evenly distributed between generations and gender by country.
Respondents were sourced from the Kantar Profiles Audience Network.