Our latest Entertainment on Demand data on the Australian streaming market reveals that between July to September 2022, the number of Video on Demand (VoD)-enabled households that subscribed to at least one video streaming service in Australia fell by nearly 180,000, with over 1 million services cancelled. Furthermore, Q3'22 saw the largest drop in subscriptions coming from young adults aged 25-34 years old.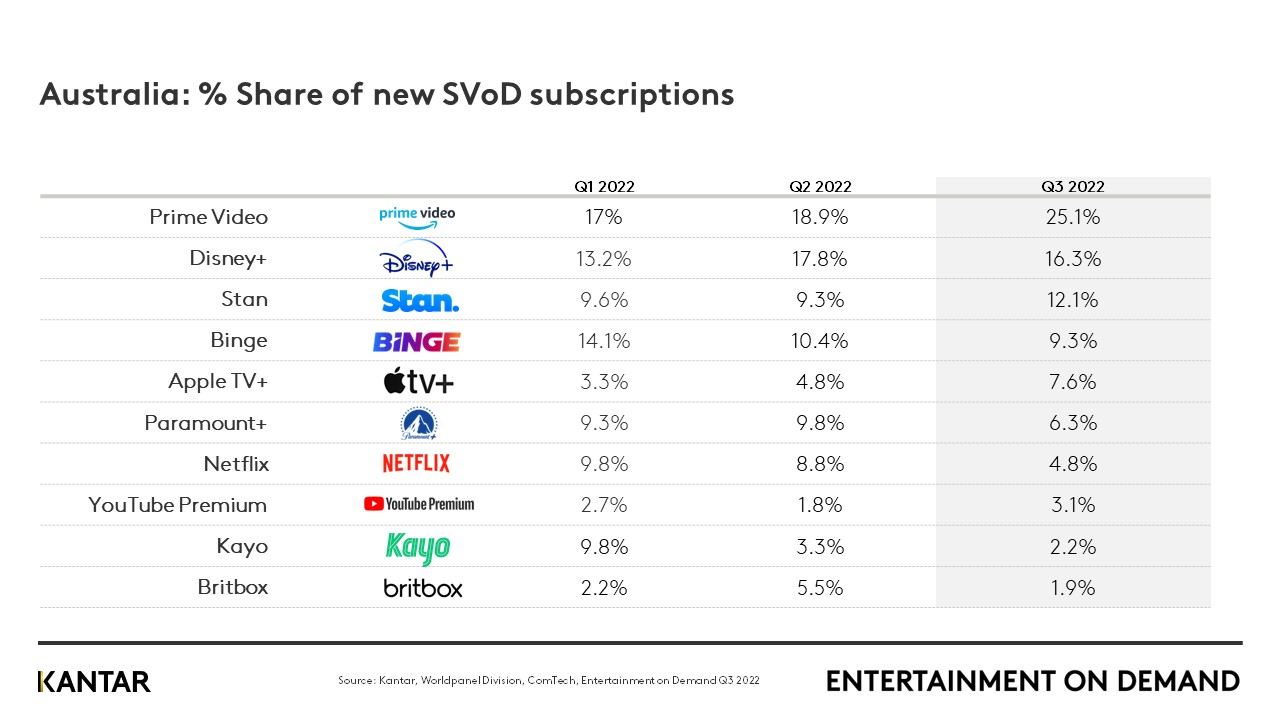 Kantar's Entertainment on Demand study in Australia uncovered the following behaviours within the VoD market over the three months to September 2022.
6.15 million Australian households subscribe to at least one video streaming service in Q3'22, a decline of nearly 180,000 households. Q2'22 saw those households with under 25-year-olds present in the home the first to cut back on Subscription Video on Demand (SVoD) services, and Q3 22 shows this trend extending to ages up to 54, with 25-34s the most affected by inflationary pressure and higher interest rates.
Of the 62% of households accessing SVoD services, almost 78% subscribed to Netflix in Q3'22, down from 79%, with nearly half of churners dropping out of the SVoD category entirely.
Service cancellations continue to rise, with just over 1 million SVoD services cancelled in Q3'22, up from the 666,000 cancellations reported in Q2'22. A further 24% of SVoD households plan to cancel a service in the next 3 months.
Nearly 5% of households signed up to a new video streaming service in Q3'22, amounting to 470,000 households. New subscribers are increasingly drawn to Amazon Prime Video, with this provider accounting for around 1 in 4 new services taken out this quarter. Share growth among new subscriptions this quarter is also enjoyed by Stan and Apple TV+.
SVoD services suffer sharpest decline among young homes and school-age families
SVoD penetration continues to fall among households with under 25-year-olds present in the home, as was recorded in Q2'22. However, as the graph illustrates below, age groups up to 54 and those households with young families are now also feeling the pinch from rising inflation and interest rates – essentially, the homes with more mouths to feed and higher home loans to repay. The pressure is felt most among under 35-year-olds, where 132,000 fewer households are accessing SVoD services in Q3'22, compared with Q2'22, representing a decline in customer numbers across most major streaming platforms. These age groups are the most frequent viewers of Broadcaster Video on Demand (BVoD) channels, with daily usage increasing quarter on quarter. However, one service bucking the trend and increasing its customer base among under 35-year-olds is Apple TV+, bolstered by the launch of its iPhone 14 device and the accompanying free trial of its SVoD service.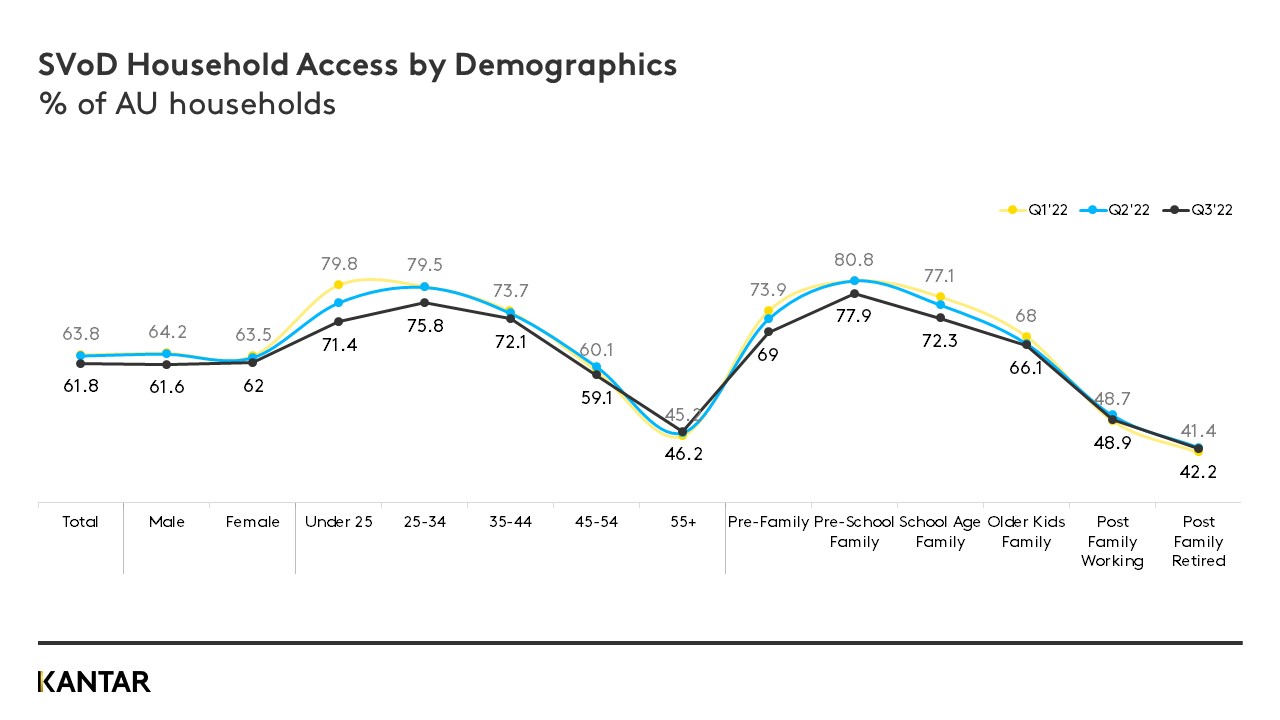 The continued drive to save money fuels cancellations
Just over 1 million services were cancelled in Q3'22, with the desire to save money remaining the key reason. This was cited by 37% of all households, rising to 41% if they cancelled a Netflix or Disney+ subscription. Given that over a third of SVoD customers claim to not mind seeing adverts if it makes the service cheaper, the imminent launch of an ad-supported Netflix tier may be a welcome introduction to consumers becoming a little more cautious about their spending in the category.
A further 24% of SVoD households plan to cancel a subscription in the next three months, with Apple TV+ carrying the highest rate of planned cancellations this quarter at 22%, primarily due to customers, again, wanting to save money as well as signing up for specific content, such as Ted Lasso in Q2'22, which they have now watched. With 515,000 new services having been taken out this quarter by 470,000 households, that equates to over half a million fewer services subscribed to compared to Q2'22.
Eagerly awaited content and free trials accelerate new sign-ups to Prime Video
Around 1 in 4 new services taken out this quarter were with Prime Video, up from 19% last quarter, with specific content and value for money increasingly drawing customers to its platform. The Boys and, more recently, The Lord of the Rings: The Rings of Power were the top titles among the 35% of new customers who signed up for content, helping to grow the proportion of Prime Video customers acquired from other SVoD services to 17%.
Additionally, whilst the proportion of gateway subscribers (those completely new to the SVoD category) dropped slightly in Q3'22 in the total market, this customer segment grew for Prime Video, with almost half drawn into the category and, hence, to the Prime Video service with the offer of a free trial. After specific content, value for money is the second biggest factor driving sign-up among all SVoD customers, increasing quarter on quarter, and almost as important as content in driving sign-up to Prime Video.
Whilst on the subject of free trials, this method is increasingly the most efficient marketing touchpoint for driving customers to take out a Stan service. Stan's share of new subscriptions grew to 12% this quarter with the offer of a free trial drawing in both gateway subscribers but, increasingly, lapsed subscribers, who returned to the SVoD category having taken a break. 43% of Stan subscriptions less than 3 months old are free trials, having nearly doubled on the Q2'22 level and, therefore, the perception of providing value for money is also increasing among Stan subscribers. The challenge going into Q4'22 will be to convert these customers to a paid subscription, with a constant flow of quality content key in order to retain them – our data shows that almost half of Stan trialists in Q2'22 churned by the end of Q3'22.
House of the Dragon is the most recommended title
Of the 44% of customers who took out a new service with Binge for specific content, nearly half signed up to watch House of the Dragon. This was the second most-enjoyed title in Q3'22 after Netflix's Stranger Things, although it ranked first as the most recommended to all SVoD households this quarter, so that the variety of TV series and quality of the shows were the leading drivers of satisfaction with the Binge service this quarter. After Disney+, Binge carries the second highest rate of purchase intent among those households looking to take out a new subscription in the next 3 months at 11%.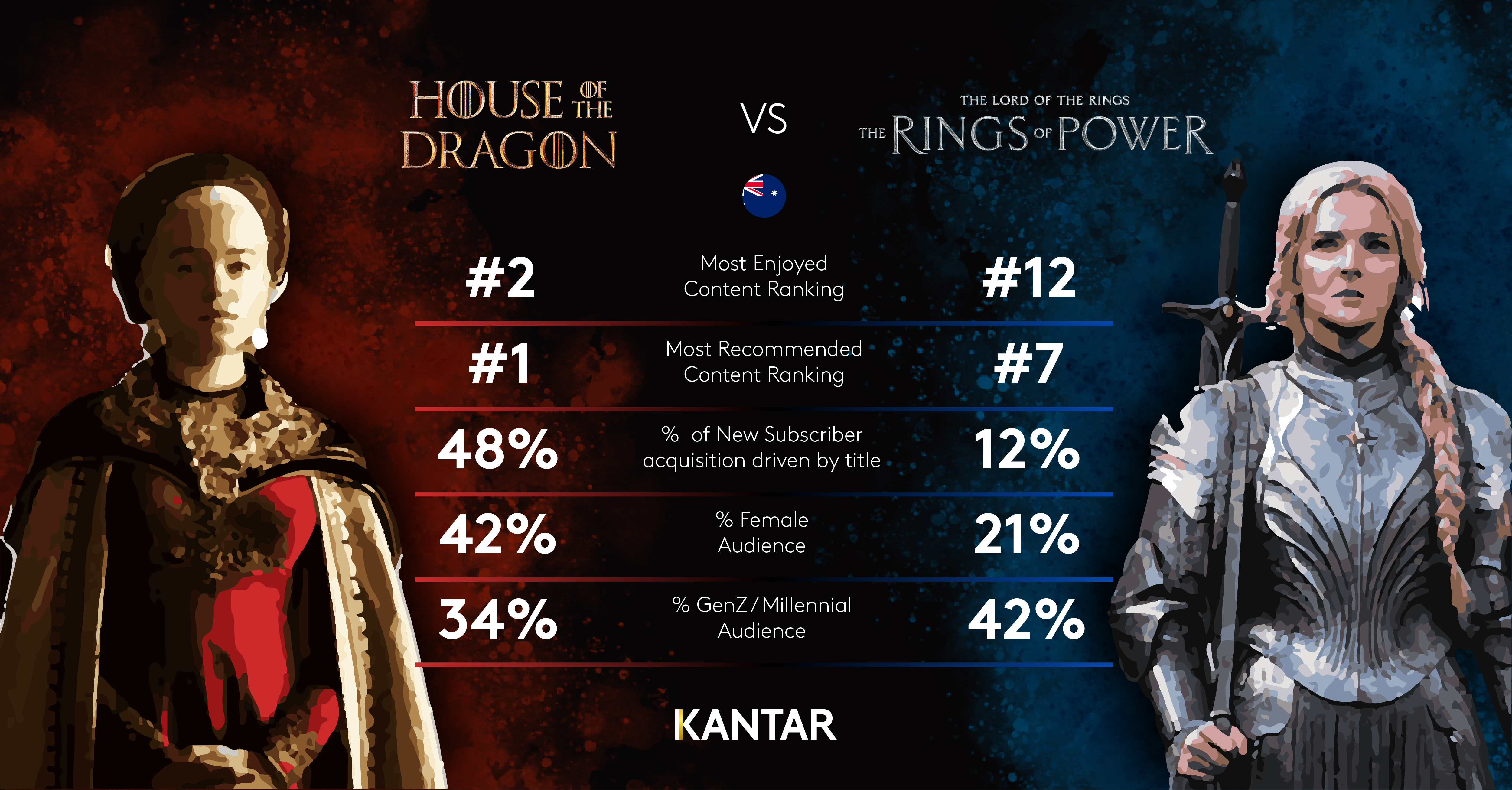 Use our data visualisation tool to explore current and historical SVoD market data for your region. Interactive data visualisation for more information.