Kantar recently conducted a survey to look at the impact of inflation and today's economy on consumers' support for sustainable practices. We previously explored the impact on transportation, home energy and levels of economic concern. Here we investigate how people's day-to-day eco-conscious behaviour is changing given cost of living increases and brand loyalty.
Increasing cost of living prompts lifestyle changes
Many respondents' shopping and lifestyle habits have changed in response to the rising cost of living. For instance, globally, 54% cook at home more, 41% buy more reusable products, and 39% say they make more use of natural products found near the home.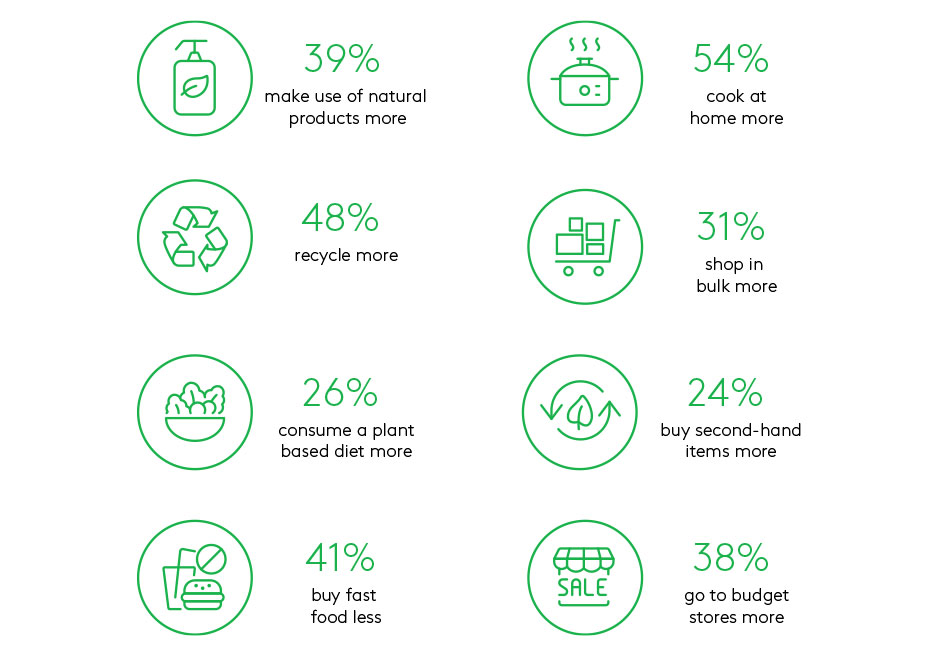 Shopping in bulk represents a bigger change in the US (34% say they do it more) than in European countries (for example Germany at 21%). These trends are all more pronounced in younger generations, with the exception of cutting back on buying fast food. Reducing fast food is a change reported slightly less by Gen-Z than other age groups.
Buying locally raised meat shows more increase in France and Spain than average (35% and 31% versus global 28%). French are least likely to have increased their plant-based diet (13% versus global 26%). US respondents are least likely to buy more eco-friendly products (21% versus 36% globally). German respondents are less likely to say they recycle more now (21% versus overall 36%), but this is perhaps because recycling rates in Germany were already high.
For all these habits, the increased uptake (or decreased for fast food) is highest for eco-conscious respondents. This holds even more for habits with an environmental impact. Eco-conscious respondents are 58% likely to report increased recycling, compared to 34% for non-eco-conscious consumers. For buying eco-friendly products, the comparison is 47% to 20% respectively. However, buying second hand products is not very different between the two groups, with 27% of eco-conscious respondents doing it more, compared with 20% of non-eco-conscious respondents.
Consumers are favouring price over sustainable brands
In terms of buying eco-friendly brands over the past year, 58% globally say they regularly did so for grocery products, 53% for cleaning and laundry, 52% for paper products, 27% for cosmetics and 11% for baby products. 19% reported they don't regularly buy eco-friendly brands in any of these categories. This is highest in UK (34%) and US (33%). Younger generations are more likely to purchase at least one type of eco-friendly brand (only 11% of Gen-Z bought none, compared with 26% of Boomers). Uptake of eco-friendly brands is highest for eco-conscious respondents, as it would be expected.
When considering cost of living concerns, only 15-20% of those who bought eco brands over the past year say they would not switch brands to a cheaper non-eco alternative. This means 80-85% are not committed to eco-friendly brands and have either already switched or would consider it. Indeed, 23% of those who did buy eco-friendly grocery brands have already switch to cheaper ones, and this rises to 36% for baby products.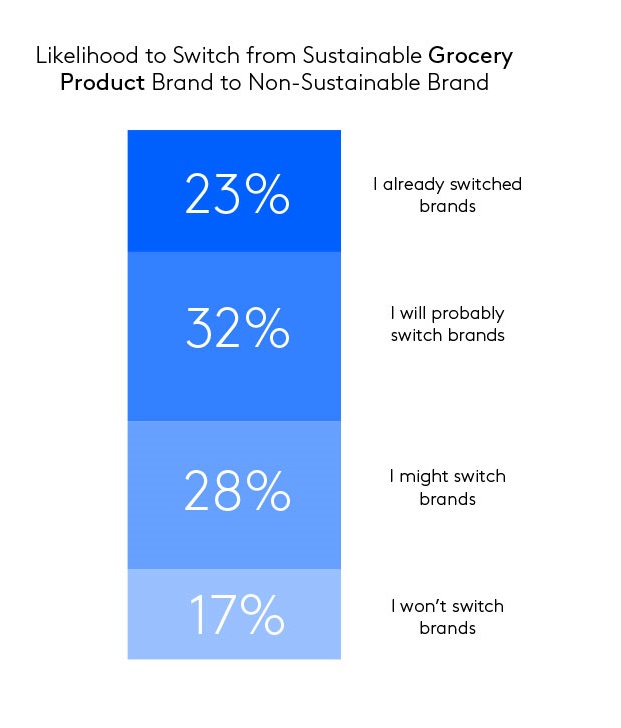 Commitment to eco-friendly grocery brands is highest in Germany (27%) and Spain (26%) and is weakest in France (15%) and India (11%). In general, resistance to switching to cheaper non-eco-friendly brands is highest in older age groups. For example, only 10% of Gen-Z would not consider switching grocery brands, compared with 23% of Boomers.
This commitment broadly increases with income. However, it seems largely independent of how eco-conscious the respondent perceives themself to be. Comparing eco-conscious respondents with non-eco-conscious, roughly the same proportion have already switched to non-eco-friendly brands for cost of living reasons as those who would not switch.
Of those respondents who have already switched or will consider switching to cheaper non-eco-friendly grocery brands, only 9% are unlikely to switch back when cost of living crisis improves. This is lowest in UK and US, and highest in France and India.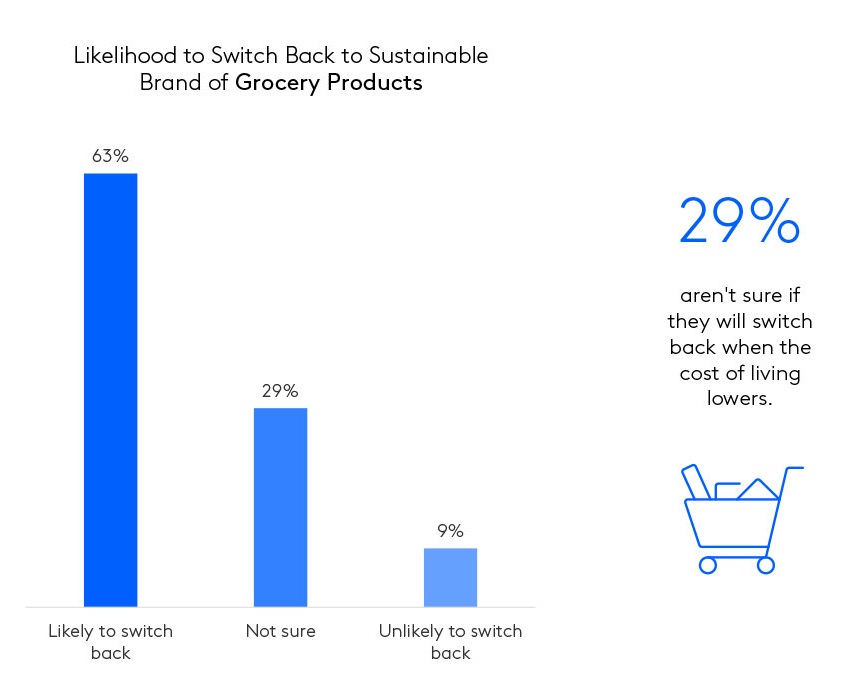 Editors note
The term "eco-conscious respondents" is used for respondents who rate themselves 4-5 on a scale of 1-5 for being "eco-conscious in practice", while "non-eco-conscious respondents" are those who rated themselves 1-3.
Get more answers
For more findings from this study, access the complete Community Report: Connecting with Eco-conscious Consumers. Find additional generational and country-specific answers on the impact inflation and today's economy is having on consumer support for sustainable means of transportation, home energy, lifestyles, and brands.
About this study
This research was conducted online among 9,000 respondents sourced from the Kantar Profiles Audience Network across 9 global markets (1,000 per market): US, Brazil, UK, Germany, France, Spain, China, India and Singapore. Fieldwork was done between April 19 and May 5, 2022. All interviews were conducted as online self-completion and collected based on local census distributions for age, gender and income.