Over 70% of respondents in a recent Kantar survey said they were concerned about global warming and energy supply. But is this reflected in what types of vehicles people use, and whether they plan to make energy-efficient changes to their homes?
Here we explore some of the findings from our Connecting with Eco-Conscious Consumers report around consumers' transportation and homeowners' energy-efficient upgrade intentions over the next 12 months in the context of today's economy.
Ownership of non-eco-friendly cars remains high in today's economy
The ownerships of less eco-friendly vehicles remain high even if 74% of people are concerned about air pollution. 44% of respondents still have a car or truck that runs only on gasoline/petroleum or diesel (carbon-fuel vehicles). These levels are highest in Europe, and lower for younger generations.
Although ownership of electric or hybrid vehicles is higher for eco-conscious respondents, their ownership of carbon-fuel vehicles is at the same level as for non-eco respondents.
Inflation has put consumers' plans to purchase a new car on hold
Roughly 30% of people say they intend to buy or lease a new vehicle next year. This was seen the highest among Millennials (about 40%). Of those, 62% agree that today's economy influenced their decision.
39% of those not planning to buy or lease a new vehicle this year say economic conditions have put their plans on hold. This is much higher for younger generations, with 49% of Gen-Z versus 29% of Boomers.
81% of those who currently own a vehicle (and have no purchase intentions) say they will likely repair their vehicle if needed rather than buy new. Only 4% are likely to buy new if repairs are extensive.
Gen-Z and eco-conscious respondents are more likely to buy. Eco-conscious respondents are also more likely than others to sell their car if prompted by high upkeep costs (68% versus 59% non-eco-conscious) or if its second-hand value increases (64% versus 53% non-eco-conscious).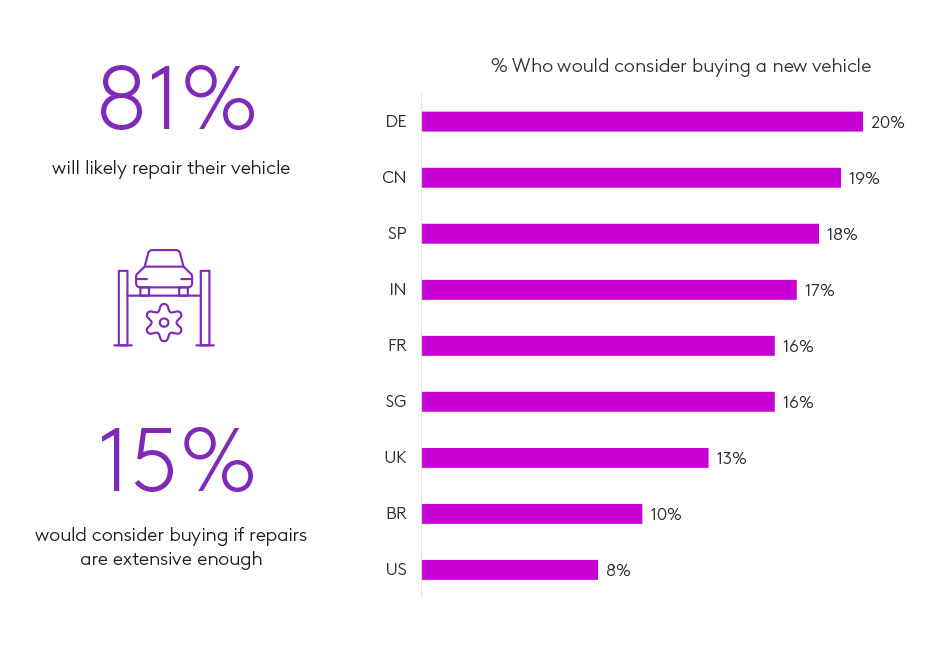 Today's economy is driving more people to consider an EV
Of those who intend to buy or lease a new car next year, 38% plan on an electric vehicle, 27% on a hybrid, and 28% on a carbon-fuel vehicle.
Those in China and India are more likely to choose electric (73% and 54%) with US respondents most likely to go with carbon fuel (47%), and Spain and France highest for hybrid (49% and 42%). Gen-Z has a high choice for electric (36%), but is also the most likely age group to choose carbon fuel (38%). This is at the expense of hybrid vehicles, perhaps now seen by Gen-Z as an unnecessary and unattractive compromise.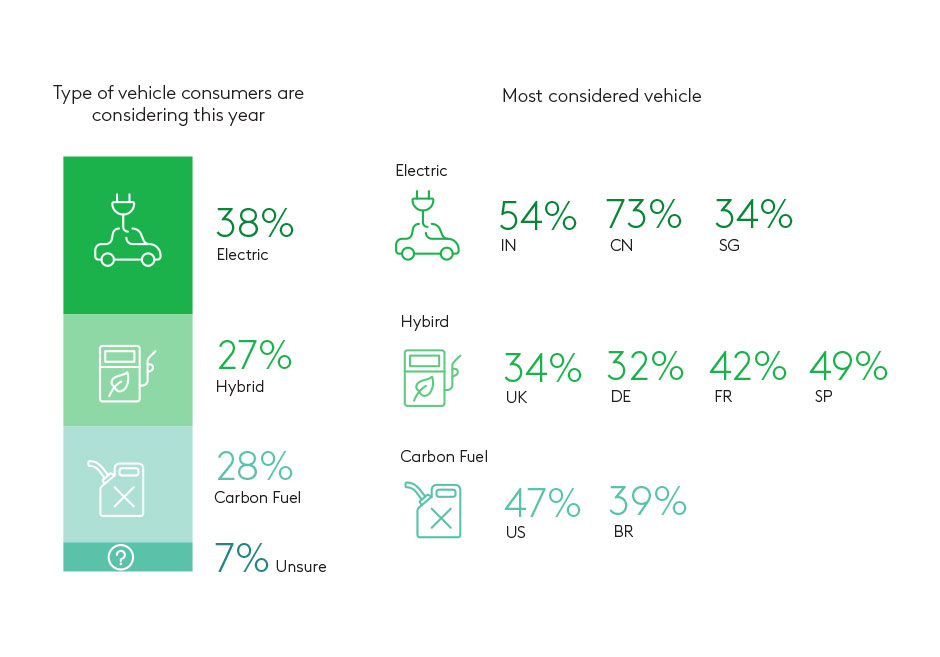 Globally, 72% agree that economic factors, including inflation, influenced their choice of vehicle. Influencing factors causing particular concern for both the decision to buy and the type of vehicle are the price of vehicles (58%), and the price of carbon fuels (52%).
The rising cost of fuel is causing people to make energy efficiency changes at home
Among homeowners, 51% of respondents plan to make energy-efficient changes in the next year. This rises to 59% of eco-conscious respondents (versus 37% of non-eco-conscious respondents). The most common planned improvements are LED lighting (61%), followed by energy-efficient appliances (56%) and installing solar power (45%).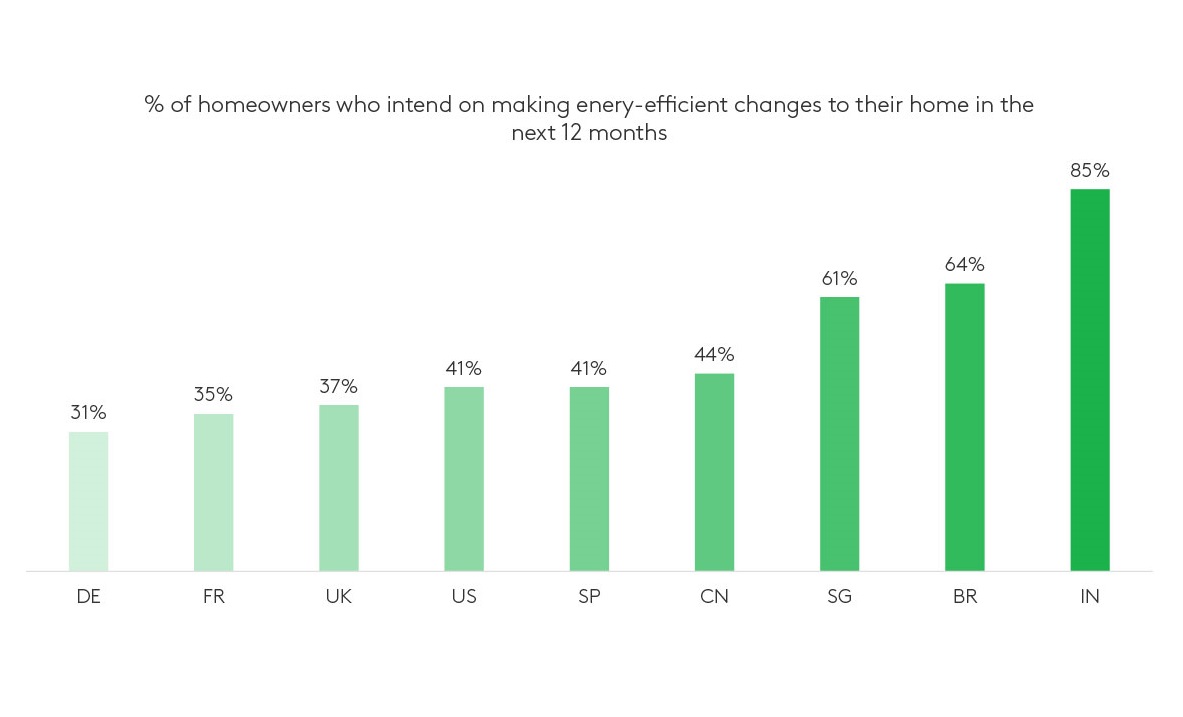 There are marked differences between countries. Plans to upgrade to solar are common in Brazil and India, whereas only 18% of UK households are planning this. Of those planning to convert their heating system in the next year, Germany has a far higher proportion (29%) than any other country.
The proportion planning to install large items such as solar power and new heating systems rises with household size, but not significantly with age. Solar power shows the biggest divide between eco respondents and non-eco (49% v 33%).
Of those planning to make home upgrades, 65% claim economic conditions have accelerated their plans. This decreases with age (76% for Gen-Z and only 49% for Boomers). 32% say economic conditions have caused such plans to be put on hold.
Editors note
The term "eco-conscious respondents" is used for respondents who rate themselves 4-5 on a scale of 1-5 for being "eco-conscious in practice", while "non-eco-conscious respondents" are those who rated themselves 1-3.
Get more answers
For more findings from this study, access the complete Community Report: Connecting with Eco-conscious Consumers. Find additional generational and country-specific answers on the impact inflation and today's economy is having on consumer support for sustainable means of transportation, home energy, lifestyles, and brands.
About this study
This research was conducted online among 9,000 respondents sourced from the Kantar Profiles Audience Network across 9 global markets (1,000 per market): US, Brazil, UK, Germany, France, Spain, China, India and Singapore. Fieldwork was done between April 19 and May 5, 2022. All interviews were conducted as online self-completion and collected based on local census distributions for age, gender and income.