Post-pandemic, companies are now more frequently requesting staff to return-to-office, at least part of the time. The in-office experience, and needs of workers, has changed as many transition to hybrid or full-time onsite after two (or more) years at home.
How are employers, and staff, managing this transition, and what should they maintain for those who continue to work remotely? Kantar conducted research on the sentiments and behaviors of the global workforce as they navigate a post-pandemic return to office. Explore the new onsite, and how employees feel about abandoning their remote lifestyle.
Workers returned to office by choice just as often as those required
Near 70% of workers report being onsite at least in a hybrid capacity. 31% remain fully remote, either by choice or because they have no option to attend an office in-person. In-office mandates seem to impact a near identical number of workers, as those who choose to return in-person. 34% of companies are requiring their employees to be in-person, at least part of the time, while 35% of employees choose to return to the office.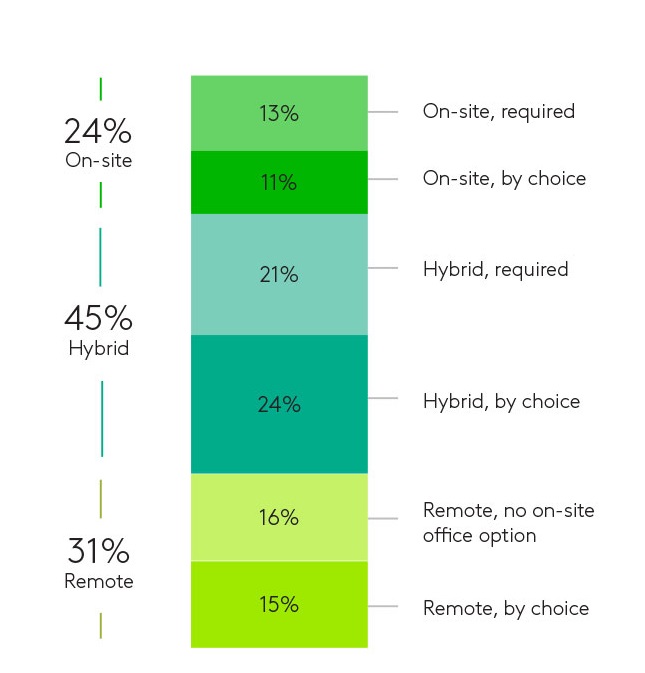 Certain industries and job categories are more likely to have returned to office, including those in Operations roles. Conversely, Marketing, PR and Communications professionals were most likely to keep their remote-working capabilities, with only 1 in 6 report they work on-site all of the time.
Virtual meetings still happen while in-office
Despite returning in-person to office spaces, workers are still interacting virtually, and most often doing so from their desks. 64% of hybrid or on-site workers take calls or virtual meets at their desks, while sub-30% access a space dedicated for calls or meetings.
Quiet space in office valued most by workers
73% of those on-site and 67% of hybrid workers say they need quiet spaces to work when at their offices. Hybrid workers say access to quiet space for calls or virtual meetings is more important (51%) than those who are fully on-site (45%). While on-site, hybrid workers also value places where they can have in-person meetings with other colleagues (35%), more than those who are fully on-site (27%). Hybrid workers likely have more collaboration opportunities with remote colleagues or other hybrid workers when they are not in-office, and value the peace and quiet an office can provide.

"Hot Desk" environments more prevalent in hybrid settings
As companies employ hybrid return-to-office plans, they are also more likely to encourage desk-sharing while on-site. While the majority (80%) still have dedicated desks, "hot desking" allows companies to maintain smaller office footprints, without sacrificing on employee count, and is more prevalent among those with hybrid staff.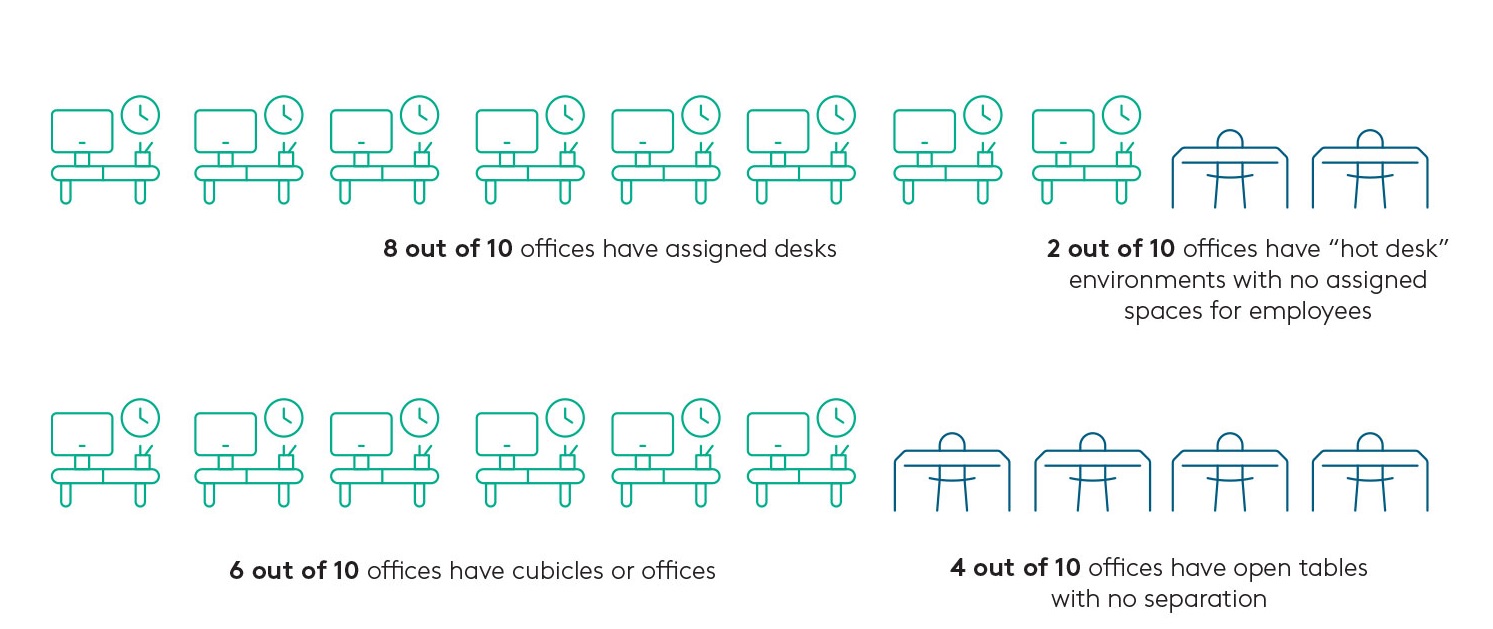 "Bossware" at home disliked by workforce
As companies grapple with a mix of remote, hybrid and onsite employees, some have implemented worker surveillance software to monitor productivity and engagement during the workday. 3 out of 5 remote and hybrid workers are skeptical of "bossware," software installed on their work devices for monitoring. Workers generally cited trust and insecurities about being "watched" when asked about the use of workplace surveillance tools. While the technology has not penetrated every industry or region, only 35% reported its implementation would have an impact on their productivity or motivation.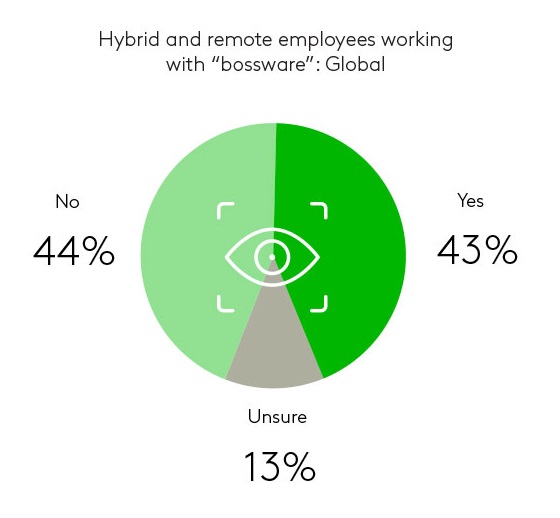 Get more answers
For more findings from this study, access the complete Community Report: Connecting with the Workforce. Read about the generational differences in the global workforce and find additional answers on the impact of economic stressors and more.
About this study
This research was conducted online among 10,055 full or part-time workers (whose job function could be performed remotely at least part-time) across ten global markets: US, UK, France, Germany, India, Singapore, Spain, South Africa, Mainland China and Brazil between December 13, 2022 and January 6, 2023. All interviews were conducted as online self-completion and collected based on controlled quotas evenly distributed between generations and gender by country.
Respondents were sourced from the Kantar Profiles Audience Network.