Kantar's Entertainment on Demand study in Germany uncovers the following behaviours within the video on demand (VoD) market:
Between September and December 2021, the number of VoD-enabled households that subscribed to at least one video service in Germany grew to 21.2 million, up 425,000 quarter on quarter, representing 51% of homes.
4.5% of subscription video on demand (SVoD) households in Germany took out a new subscription in Q4 2021.
34% of VoD subscriptions taken out in the quarter were by households who were new to the SVoD category, whilst a record number (20%), made a direct switch from one provider to another, indicating dwindling appetite for numerous paid streaming services
Netflix's Money Heist was again the top enjoyed title in Q4, followed by Squid Game and The Witcher, both Netflix titles. Big budget Amazon series The Wheel of Time was the fourth most enjoyed title across German VoD households.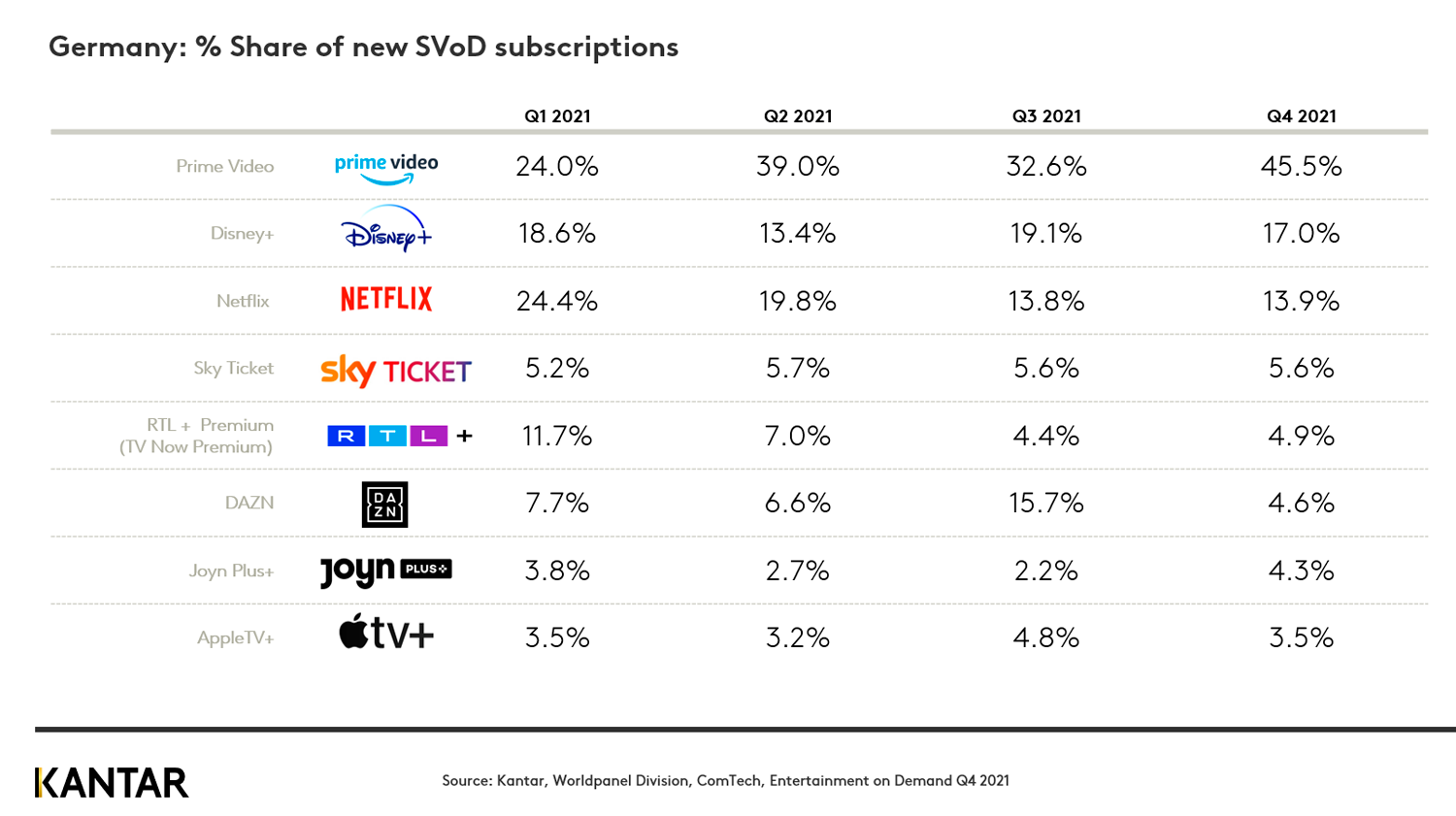 Nearly half of German households have Amazon Prime access
In Q4, Amazon managed to further increase Prime membership in the country: a record 49.5% of German households now have access to Prime membership. This gain in Prime membership meant Amazon was able to continue to lead in new SVoD subscriber share over the quarter, holding 45.5%, ahead of Disney+ in 2nd place on 17.0% and Netflix in 3rd at 13.9%.
Big budget series The Wheel of Time performed well for Prime Video, coming through as the 4th most enjoyed VoD title in the quarter across Germany. However, the data shows the title has been more successful at engaging existing subscribers than it has been as a specific draw for new subscriber acquisition. Football and Sports in general is still the major content-based driver for Prime Video.
Free trials remain a critical tool for Amazon to drive new Prime Video subscribers, with 43% of new sign ups in the quarter utilising trials to gain access.
International hit Ted Lasso not performing for AppleTV+ in Germany
AppleTV+ is not seeing the same level of momentum in Germany as it has been capturing elsewhere, with share of new SVoD subscribers falling to 3.5% in Q4. Forward looking signs for Q1'22 are also challenging for AppleTV+ in Germany, with a record number of its subscriber base (25%) planning to cancel in the next three months. Whilst Emmy award winning show Ted Lasso has been in or close to the top 10 most enjoyed VoD shows in both the UK and US, it has made very little impact in Germany.
Households that do subscribe to AppleTV+ are heavily stacked, with almost 3 additional video streaming subscriptions on top of AppleTV+, putting heavy pressure on share of screen-time. In fact, among those who are planning to cancel AppleTV, 33% say it is because they have too many video subscriptions and can't use them all. The average number of video streaming services in German households (2.8) has not increased in 12 months. With a record 20% of new SVoD subscribers in the quarter cancelling an existing service to make way for a new one, it is clear that challenger brands in this space must increasingly be looking to replace other services, not be incremental. Data from Kantar Entertainment on Demand highlights that it is still a quantity issue for AppleTV+, with subscriber dissatisfaction primarily stemming from amount of original content and variety of TV shows, whilst satisfaction with the quality of shows is industry leading.
Subscribers say they are happy with DAZN value, but challenging model with password sharing
After a strong bounce in Q3 from securing new Bundesliga rights, DAZN returned to a more normalised share of new SVoD subscriptions, at 4.6% in Q4. DAZN continues to hold higher levels of subscriber advocacy than rival Sky Ticket, with subscribers feeling it provides good value for money.
However, there are signs that consumers feel DAZN has too many ads, with 20% of those planning to cancel the service specifically citing too many advertisements as the reason, vs. just 5% for Sky Ticket. DAZN is also having challenges with password sharing, with just over 1 in 5 of those planning to cancel saying they now share a subscription with friends – the highest figure across major SVoD services.
Access the interactive data visualisation for more information.