In Q2 2021, 1 in 2 German households were accessing video streaming services (Paid Ad-free, Paid Ad-supported, and Free Ad-supported*), representing flat growth quarter-on-quarter. The most popular video streaming service is Amazon Prime Video, capturing 67% of video streaming households, followed closely by Netflix (60%) and Disney+ (18%). This quarter, Amazon Prime Video demonstrated strong quarter-on-quarter sign-up performance, accounting for over one third of new subscriptions taken out, 1.7 times higher than its share in Q1 2021. As a result, all other subscription services took a smaller piece of the pie or held their position near flat this quarter versus last quarter.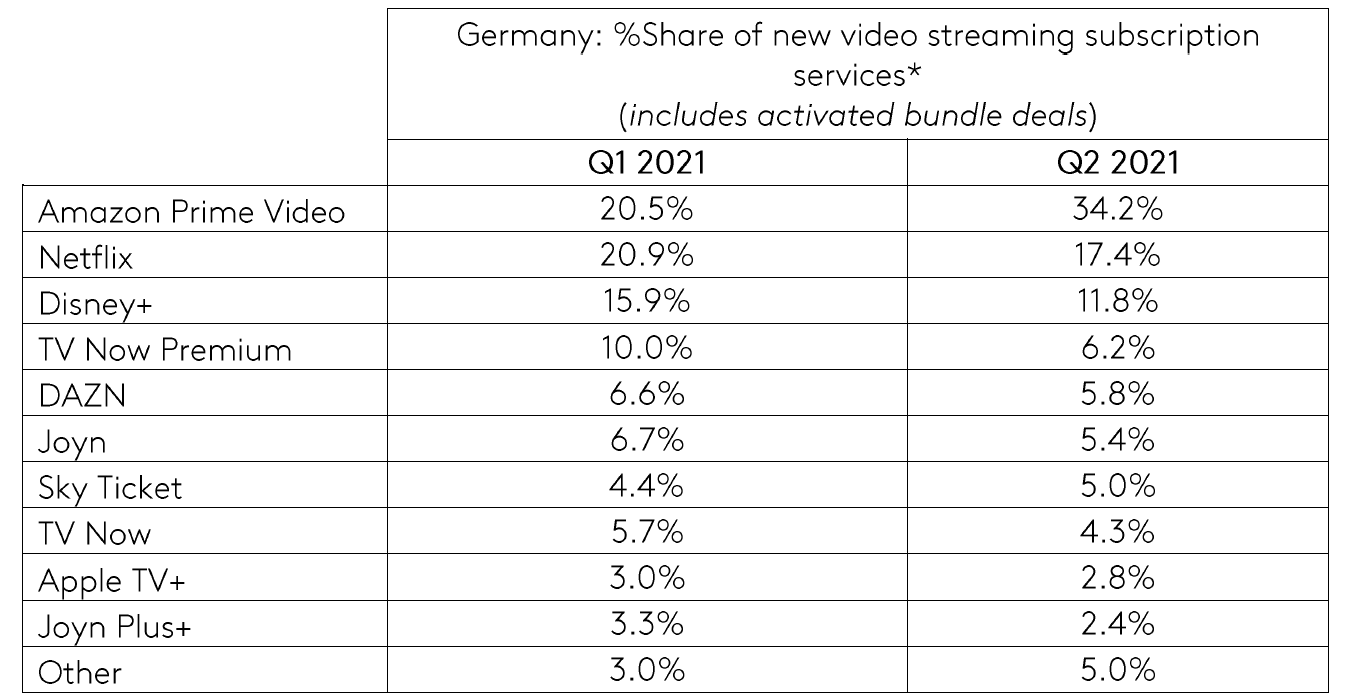 *Universe includes Paid Ad-free, Paid Ad-supported, and Free Ad-supported subscription services. Please contact a Kantar representative if you have any queries regarding the vMVPD+ category.
Amazon Prime Video's strong quarter-on-quarter performance
Germany is not the only market where Amazon Prime Video exhibits strong quarter-on-quarter performance among new subscribers; of Paid-Ad Free subscription services, Amazon Prime Video takes top spot in the US (24% of new subscriptions, up 11 percentage points quarter-on-quarter) and Great Britain (38% of new subscriptions, up 7 percentage points quarter-on-quarter). In the path to purchase of new Amazon Prime Video subscribers, owned touchpoints are a key influence in subscription uptake; specifically, "I was offered a free trial" and "Visited the website of service". Interestingly, among this quarter's wave of new Amazon Prime Video subscribers, a higher proportion chose it due to their love of the brand, and "Variety of classic films/TV series". That said, "Value for money" is still the greatest reason for choosing to subscribe.
Although 1 in 5 new Amazon Prime Video subscribers sign up to watch specific content, this is lower than the market average (23%). For those who are driven by specific content, Lucifer is the most sought-after show, followed by the football genre – likely an influence of the 2020 UEFA European Football Championship.
What content are subscribers most enjoying?
In Q2 2021, the top ranked title by video streaming subscribers in Germany was Lucifer, followed by Netflix's Lupin and Who Killed Sara? Netflix also demonstrated its ability to engage the German audience in Q1 2021 with Vikings and Money Heist topping the most enjoyed content. Big titles like The Mandalorian from Disney+ fall out of the top titles this quarter, despite appearing in 4th position in Q1 2021.
Maintaining customer satisfaction beyond content
While content is a crucial lever for driving continued engagement with subscription services, understanding how to establish a loyal subscriber base, maximise retention, and minimise churn over an increasing length of tenure, is crucial for services to sustain long-term growth. NPS scores are most likely dip around the 4 – 12 months subscription tenure point.
Compare:

Over 20% of video streaming subscribers in Germany intend to cancel a subscription. This is particularly high given subscription stacking is only 2.7 (vs. 3.8 in the US). Planned subscription cancellation in Great Britain is just 11% and subscribers stack an average of 2.3 subscriptions.
In Germany, the top reason for cancellation is to save money (23%). This is closely followed by irregular usage, "Wanted a specific film/TV series", and "Price has gone up/will not pay". There is a need to demonstrate value for money; whether this is through introducing a new pricing structure, allowing multiple household profiles, or bundles. While content can be a great lever for sign-up, exploration of the content library from the first service visit is important to keep the attention of subscribers.
Access the interactive dataviz for more information.