How did you first get involved in the LA Regional Food Bank?
I had signed up for emails from volunteermatch.org, which shares lots of volunteering opportunities in your local area. It's a great resource for anyone in the US who is looking for ideas of how to spend their volunteer days. I saw that the food bank was asking for volunteers during COVID-19, and it was an opportunity that jumped out at me. And then I was really pleased when Carla joined me to come and help out as well.
What sort of activities do you do?
The Food Bank distributes more than 1 million pounds of food each week, at more than 765 sites across LA county. As volunteers, we're helping to sort and organise this food. We unload large deliveries from grocery stores that are donating the food and then sort and pack them into different food types, ready for distribution.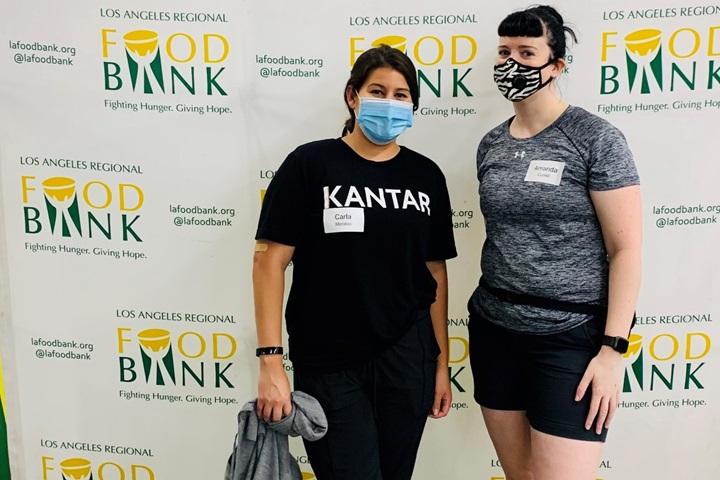 "
There is so much work to be done and I'm really proud to be able to help out every few weeks."
Amanda, Client Services, USA
Why is this organisation important to you?
After the first time I went there, I truly felt energised by the work that they do to support some of the estimated 2 million people in the county that live with food insecurity. Their passion and commitment to help, especially during COVID-19, is inspiring, and the work they do is so incredibly needed at the moment.
Why do you think volunteering with non-profit organisations is important?
With economic uncertainty and therefore food uncertainty sharply increasing during COVID-19, food banks are more important than they have ever been. Thankfully there are lots of donations from grocery stores etc. but it is a manual task to sort through those donations and get them ready for distribution. There is so much work to be done and I'm really proud to be able to help out every few weeks. I'm also proud that other people from Kantar have also come along to join us!