What organisation do you volunteer with?
I volunteer with Istanbul Yedikule Animal Shelter. It is the biggest animal shelter in Istanbul and shelters over 3000 dogs, hundreds of cats, and other animals that have been found homeless, injured and abandoned on the streets of the city.
What do you do with them?
My focus is working with disabled stray cats and dogs who are left to the shelter. I help with their medical treatments and wellbeing and then importantly help find them new families. My picture is of me with a blind cat, who has been in the shelter for 4 years. My shoulders are her favourite place to sleep and every time when I go to the shelter, she somehow feels me and runs to me even if I didn't call her.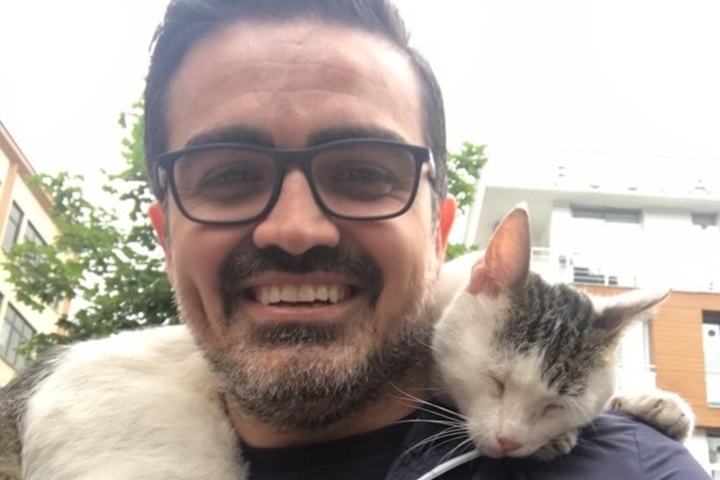 "Supporting an organisation you feel passionately about is a great way to deliver on our own 'individual' purpose."
Gokhan, Director, Turkey
How did you first get involved?
On Christmas night back in 2015 I found a heavily injured cat in front of my apartment (which was hit by a car). All the vets were saying that there was nothing they could do and she had no chance to live, but I thought that she was a Christmas gift to me. It was a very difficult 4 months of recovery, but she made it! And when I saw her efforts and her determination to live, I decided to work for all other disabled cats/dogs as much as I could.
Why is the organisation important to you?
The world does not only belong to us, but we often forget it in our daily life. Therefore organisations like the Istanbul Yedikule Animal Shelter are very important. This animal shelter is a big organisation in Istanbul and it is not only committed to helping stray cats and dogs but is also focused on generating overall awareness about protecting the environment and nature, which is so important to me.
Why do you think volunteering / supporting non-profit organisations is important?
We always tell our clients about the importance of 'Brand Purpose'. This is the same for individuals as well. We all need to have a 'reason to believe' or 'reason to live' for our lives. This purpose may be different for everyone, but volunteering or supporting an organisation you feel passionately about is a great way to deliver on our own 'individual' purpose.