Getting media right
Plan and execute more effective campaigns
with a powerful combination of consumer intelligence, competitive insights and in-flight campaign performance data.
Media planning 
Plan your media buys more effectively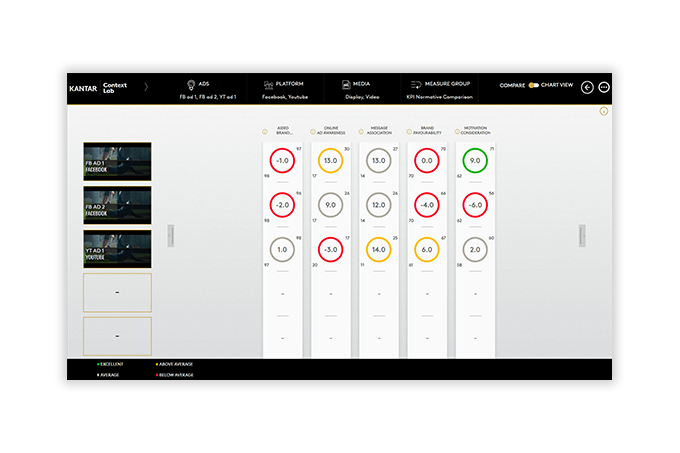 Media optimisation
Make context work for you
Find the right combinations of media context and creative so you can make effective placements and use your budget more efficiently.
Campaign optimisation
Strengthen campaign performance
Optimise campaigns in flight by understanding which media platforms, formats and creative themes have the biggest impact on brand metrics.
Benefits
Broad ecosystem
Extensive publisher partnerships mean you can test most paid digital ad formats, as well as branded content and influencer marketing.
Proven methods
Research is designed to the highest standards so you can plan more effectively and isolate the campaign elements that are driving the biggest results for your brand.
Deep expertise
With a database of over 20,000 digital campaigns, you'll benefit from the widest context for comparison. Plus, access expert support to help you interpret your results.

Insights on demand 
Request studies, reports and data right when you need them. Act quickly based on insight to increase the impact of media placements and campaigns.
Introducing Media Reactions
Discover which media brands and channels will allow your ads to thrive with new global report.
Get the report