The world's largest brands are facing a dual threat from slowing growth in developed economies and the rising popularity of homegrown brands. As getting more sales from existing customers becomes increasingly difficult, and costly, brands are turning their attention to the places where they can attract new customers – emerging markets.
According to Kantar's fifth annual Brand Footprint study, emerging markets now account for 51% of global spend on fast-moving-consumer-goods (FMCG), up from 48% just three years ago. Emerging countries added $34 billion to the global industry throughout the year, a gain of more than 6% over last year, while sales in developed markets were flat.
"The underlying theme of this year's report is disruption," said Josep Montserrat. "This not only relates to the political and economic climate of today, but also to the increasing number of disruptor brands and trends which are upsetting the status quo."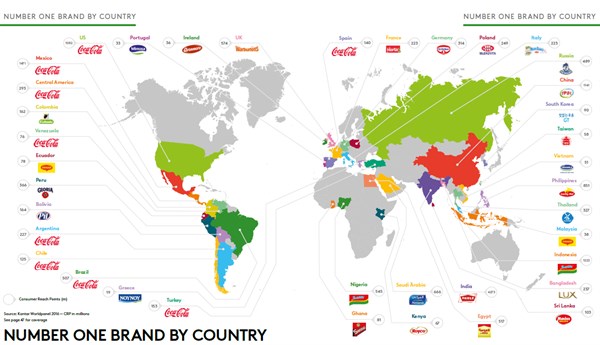 While slowing growth in the US and Europe had been anticipated, 2016 saw Asia slow down as well, with sales increasing by only 2%. The report found the health and beauty category suffered the biggest slowdown with 1% growth.
Rise of the Local Brands
While global brands remain dominant, local brands are achieving faster growth. Local brands grew by 3.9% in 2016, compared with 2.6% growth for global brands.
"In 2016, the price gap between global and local brands has narrowed to the point of disappearing," said the report. "No longer does being a global brand automatically command a price premium. Global brand owners are having to work harder to convince consumer that a global choice offers the additional reassurance of quality and confers prestige."
Local brands claimed the top spot in more than half of the countries studied by Brand Footprint. Some of these brands represent a more affordable option in struggling economies like Brazil and Argentina. However, in developed markets consumers have shown they are willing to pay a premium for homegrown products. Local brands are seeing the strongest performance in the food and beverage categories, while health and beauty brands continue to be driven by global brands.
The Top 50 Brands
Coca-Cola maintained its position as the world's most-chosen brand for the fifth year, followed by Colgate and Unilever's Lifebuoy. Other brands rounding out the top 10 include Pepsi and Nestle.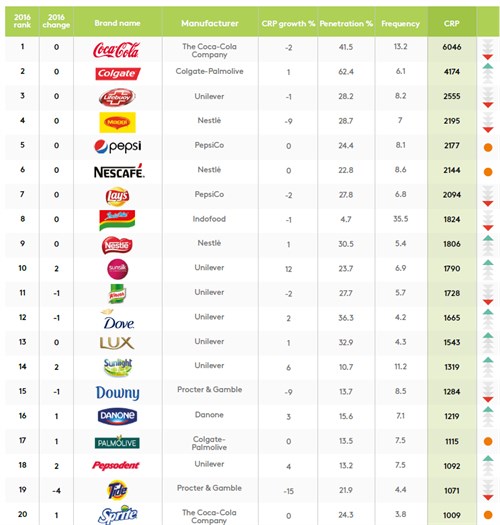 The world's largest brands attract the most buyers, but in order to achieve growth they must attract new buyers. The Brand Footprint study shows that the task of expanding the buyer base for global brands is exceedingly difficult. Colgate, Nivea and Dove are among the few that managed to do so. Colgate is the only brand in any category to be purchased by more than half of the world's population. Dove managed to add 14 million new households in 2016, expanding across categories and geographies.
The fastest rising brands included Dettol, Sunsilk and Barilla.