Since 2014, the overall value of China's Top 100 brands has grown 265%, to reach a total for 2023 of more than $1 trillion. Highlights from this latest report, which is based on the opinions of more than 250,000 consumers about 1,980 brands across 137 categories, reveals:
-
Tencent is the most valuable Chinese brand for the third year, with a brand value of $144.1bn
-
Alibaba ($90.2bn) is the second most valuable brand, with Moutai (No.3; $88.4bn), Douyin (No.4; $46.6bn) and China Mobile (No.5; $31.7bn) completing the top five
-
The largest category by total brand value is Media and Entertainment with 11 brands and a total value of $241.4bn
-
This year's top 10 fastest-growing Chinese brands hail from eight categories, led by China Mobile (+38%) and Ctrip (+31%)
-
Eleven brands enter the ranking, including apparel brand, Shein (No.12; $21.6bn), which also joined the
global top 100 most valuable brands in 2023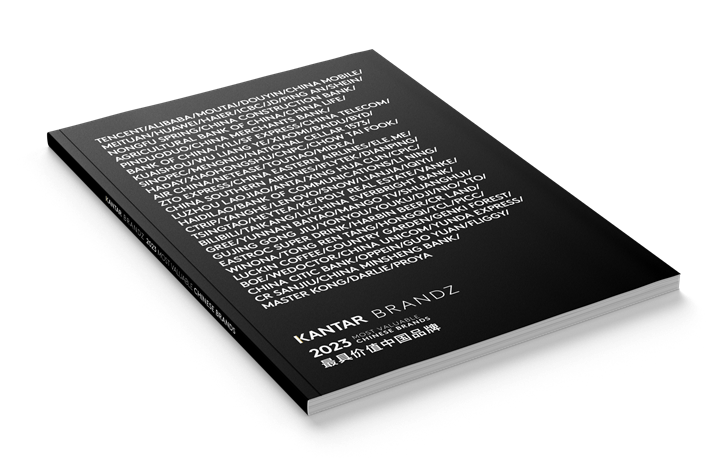 Discover how China's most valuable brands create powerful consumer connections. 
Download the report
Discover your top brand equity indicators in seconds with Kantar BrandSnapshot powered by BrandZ.
Explore for free
Infographic
Take a quick look at the highlights from the report in the infographic, available in English and Chinese featuring the full list of the top 100 most valuable Chinese brands, category overview, top risers, brands re-entering the ranking and more. Digitalisation, diversification, innovation, and global expansion have seen brands in Media and Entertainment, Retail, Financial Services and Alcohol perform well in the 2023 Chinese brand ranking.
Download the infographic in English
Methodology
To be eligible for inclusion in this ranking, the brand must have been created in Mainland China, owned by a publicly traded enterprise, or financials of the company owning the brand are audited by a major global accounting practice and published in the public domain. Chinese unicorn brands must have their most recent valuation publicly available. Learn more about the methodology behind Kantar BrandZ brand valuation rankings in this video, which presents the three-step process, combining financial value and brand contribution to determine a brand's value.
Video
Watch the countdown video and celebrate the top 100 most valuable Chinese brands of 2023. The strongest brands have shown superior resistance to pressure post-pandemic, and many demonstrate the advantages of investing both locally and globally. What makes a brand meaningful, different, and salient may vary somewhat by category, market and customer segment. But in China, success usually involves strong credentials in sustainability, purpose, exposure, experience, function, and convenience.