The value of China's Top 100 most valuable brands has soared by 57% over the past year, reaching record-setting new heights. The total value of the Chinese brand ranking now exceeds $1.56 trillion. It has grown by 197 percent since 2016, at a significantly faster rate than the Global Top 100 most valuable brands, which increased by 110% over the same five-year period.
Tencent is China's most valuable brand, with an 85% increase in brand value to $280 billion. Alibaba ($202bn) and Moutai ($111bn) rank in second and third places respectively. Video-sharing mobile apps, Douyin (No. 8, $39bn;) and Kuaishou (No.10, $33bn) enter the Top 10 for the first time.
Across all major categories, the building blocks of brand equity have continued to drive sustainable brand value growth in China. Some of Chinese brands' biggest announcements over the past year have also had a focus on sustainability, as social responsibility and environmental impact become more important growth benchmarks: China's biggest brand, Tencent has pledged $7.8 billion to environmental, educational, and rural development programmes; the founders of Meituan, Pinduoduo, and ByteDance have all made significant personal donations to aid China's development, in addition to steering their companies towards new ethics of corporate responsibility.
Find out more about what has changed for Chinese brands over the past year in this new brand ranking report. Read more on the significant shift in how businesses are balancing profits against social responsibility, and how innovation must move to be centred both on the user and society.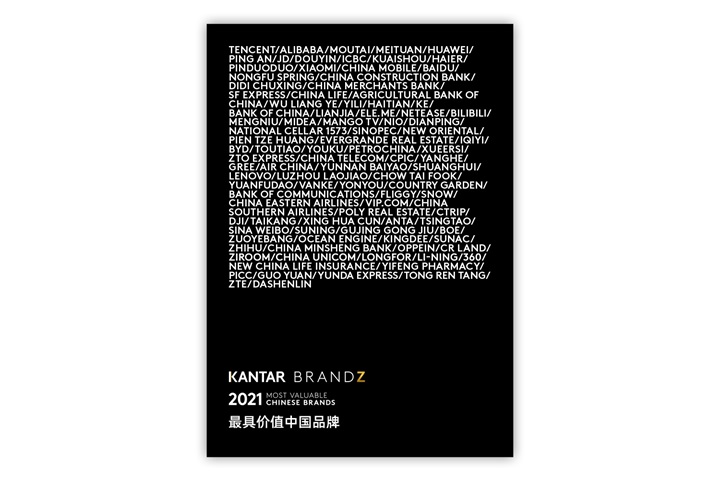 Infographic
There are 17 newcomers in the Chinese brand ranking this year, led by Food & Beverage brands Nongfu Spring (No.16, $22bn) and Haitian (No.25, $15.8bn). View a summary of China's brand ranking: the Top 10 brands, fastest risers, new entries, category performance and more.
Download the infographic in English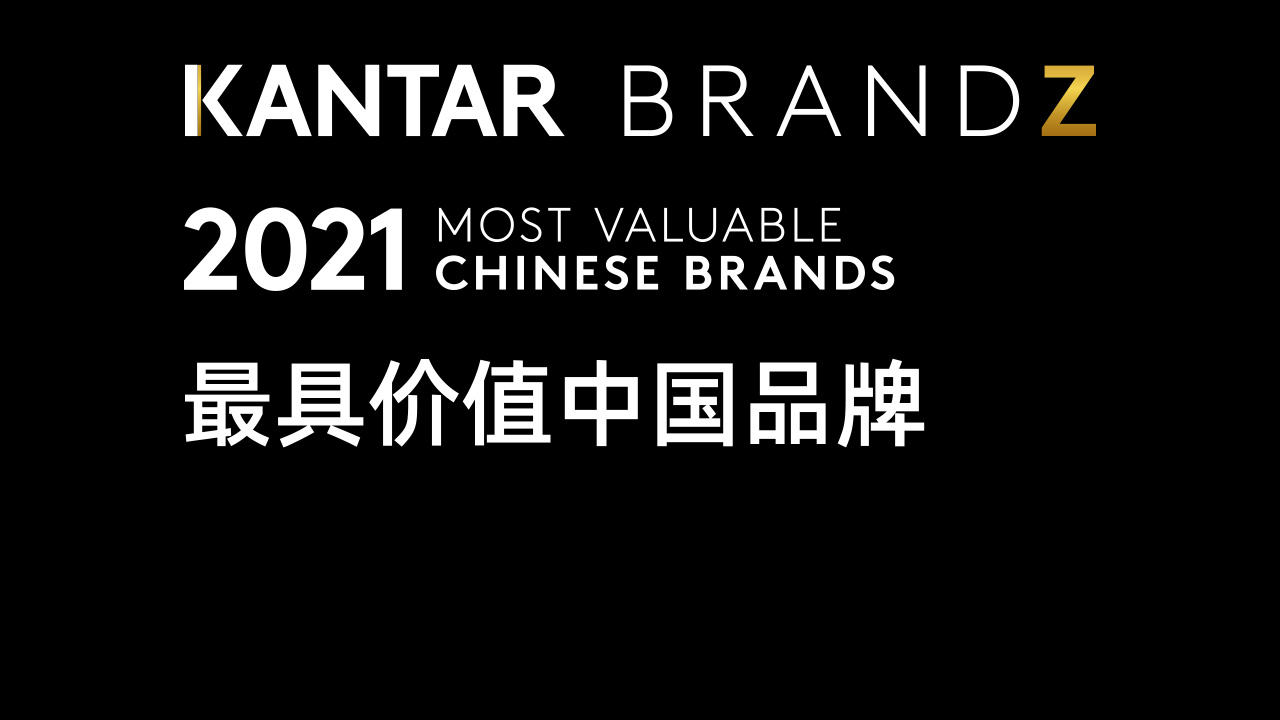 Video
Over one fifth of China's Top 100 brands have grown their brand values by more than 100% over the past year, with the brand value cut-off increasing by 109% to $1.7bn. Check out the full Top 100 brand ranking, the fastest risers, and new brands entering the ranking for the first time in this countdown video of 2021's most valuable Chinese brands.
Previous reports
In this 10th Anniversary Edition of the BrandZ Most Valuable Chinese Brands report, we present how and why the Chinese brand landscape has changed, and the imperatives for building strong, valuable brands.
During the past 10 years, the China Top 50 has grown 225% in value, outpacing the Global Top 50, which grew 126%. In addition, a stock portfolio of the BrandZ China Top 100 has grown at three times the rate of the MSCI China Index over the past decade.
And, in a year of exceptional pressure on growth, the BrandZ Top 100 Most Valuable Chinese Brands 2020 gained 12% in value, increasing their total worth to $996bn.
In 2020, Alibaba remains China's most valuable brand, growing 9% to $153bn. At no.2, Tencent rose 9% to $151bn. Premium alcohol brand Moutai increased its value by 47% to $54bn, climbing two places to no.3.
Download the BrandZ Most Valuable Chinese Brands 2020 report - English
Download the BrandZ Most Valuable Chinese Brands 2020 infographic - English
Download the BrandZ Most Valuable Chinese Brands 2020 infographic - Chinese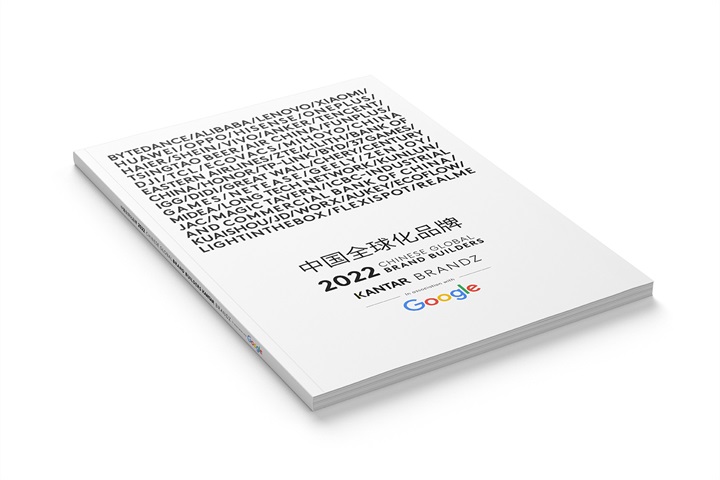 Explore how leading Chinese global brands are creating sustainable growth by raising perceptions of value.
Download the report