Italy has been experiencing a dazzling international moment when it comes to brands. The 'Made in Italy' label is a true indicator of top-quality products and one that is displayed with pride.
Brands from 11 categories feature in the Kantar BrandZ Italian Top 30, spanning from well-known food brands to essential telecom providers. Yet the real standout category of the ranking lies with luxury, with eight brands accounting for 44% (or $57.2 billion) of the total value of the ranking.
Italy's number one most valuable brand is luxury fashion company, Gucci, with a brand value of US$37.9 billion. Gucci has retained this title for the fourth consecutive year in a row. This is followed by utilities company, Enel (No.2, US$12.6 billion) and confectionary company, Kinder (No.3, US$9.8 billion).
The key is that Italian brands love to lean into their origin stories and stress the special qualities that continue to make the country's products globally renowned and desired. The most valuable Italian brands recognise that heritage is important to consumers.
Dive into our latest report, with unique insights on what is behind Italy's most valuable brands.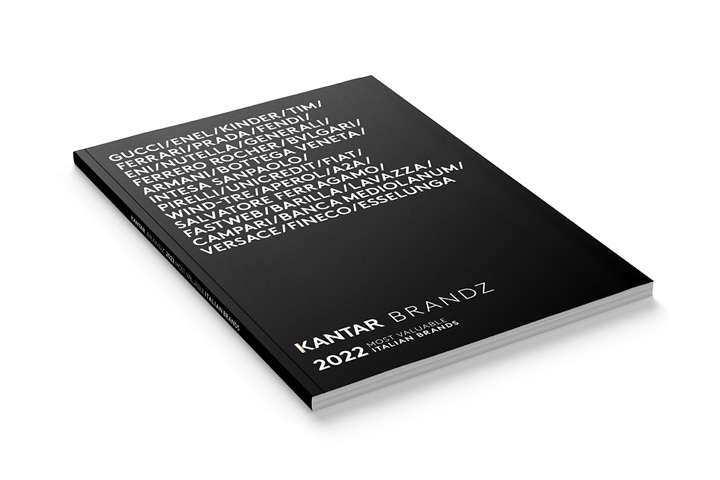 Discover Italy's most valuable brands, with data-driven insights to help businesses find long-term success.
Download the report
Infographic
The highest-performing brands in the Italian ranking are those that deliver on three key building blocks of strong brand equity: Meaning, Difference and Salience. Get a quick view of the Top 10 Italian brands and overall category performance here.
Video
Even during a tough economic period with high inflation, price is not the only factor that consumers look at when choosing what to purchase. A strong brand can be the reason. Watch to discover Italy's Top 30 brand ranking in this countdown video.
Launch event
Join Italy's leading brand experts, Federico Capeci, Managing Director (Italy, Greece, Israel); Matteo Beccarelli, Brand Guidance Leader, and Stéphanie Leix, Head of Media & Creative, to hear an extensive debrief on the strategies behind the growth of Italy's most valuable and dynamic brands.
Previous reports
Despite a turbulent year, and the threat of a lasting economic recession, the Kantar BrandZ Most Valuable Italian Brands ranking has risen by 11%, to reach a total brand value of $114.6 billion.
Gucci retains the top position as Italy's most valuable brand for the third year, with a brand value of $33.8 billion. Italian luxury brands continue to dominate the ranking, accounting for 42% of the total brand value of the Top 30.
17 brands increased their value, by an average of 24%, including the fastest risers: Bottega Veneta (No.12, $2.2 billion, +54%), Aperol (No.23, $1.1 billion, +54%), Fendi (No.8, $3.2 billion, +48%), Enel (No.2, $13.6 billion, +41%) and Ferrari (No.5, $6.8 billion, +35%).
The most valuable brands in Italy – and the fastest-growing smaller brands – clearly demonstrate the benefits of being meaningful, different and salient in consumers' minds. Those that stand out against others in their category in ways that are relevant and important to people have posted significantly stronger performances.
Find out how strong brand equity, agility, and a rapid response have offered businesses insulation from the crisis in our new report.
Download the Kantar BrandZ Most Valuable Italian Brands 2021 report
Download the Kantar BrandZ Most Valuable Italian Brands 2021 infographic
Italian brands are exceptionally strong on the world stage, with ten brands in the Top 30 with 90% or more of their exposure overseas (a combination of revenue, volumes sold and profitability overseas). This allows them to broaden their potential audience base, spread their exposure to risk and capitalise on fast-growing markets.
The strong presence of Italian brands overseas has contributed to the 14% growth of Italy's Top 30 Most Valuable brands in a time of economic and political uncertainty for the country. 2019's fastest riser Gucci stands strong as Italy's most valuable brand after growing 50%, in a ranking flush with luxury brands.
While luxury brands are the largest category contributor to the ranking's total value, the ranking comprises brands from a wide variety of categories, such as food and dairy, telecom providers, energy providers and car manufacturers.
Download the BrandZ Most Valuable Italian Brands 2019 report
Download the BrandZ Most Valuable Italian Brands 2019 infographic
Kantar and WPP have published the first BrandZ™ Top 30 Most Valuable Italian Brands ranking and report. The annual report covers the evolving landscape for Italian brands and tracks their value. The total Brand Value of the 2018 BrandZ Top 30 Italian brands is $28.9 billion.
Gucci leads the Top 30 ranking, along with six other Luxury brands reflecting Italy's tradition of businesses built by craftspeople and experts with great vision and determination. Italian brands are highly regarded around the world, particularly when linked to food, wine and fashion.
The report also highlights that while Italian brands are perceived to have a strong Purpose and to be great Communicators, they must continually innovate, and focus on creativity to protect themselves from global disruptive brands.
Review the report and ranking to learn more about the most successful Italian brands and how healthy, innovative brands stand the test of time.
Download the BrandZ Most Valuable Italian Brands 2018 report
Download the BrandZ Most Valuable Italian Brands 2018 infographic