Action climbs four places as 2020's fastest riser, while CoolBlue's outstanding customer experience and Bol.com's progressive initiatives welcome them into the 2020 BrandZ Dutch Top 30 ranking.
The key to any business' success is how it is seen in the eye of its customer. BrandZ is the only brand valuation to consider both market sales and the opinion of the consumer. By analysing interviews with over 32,300 Dutch consumers BrandZ uncovers the trends driving brand growth in the Netherlands and identify high potential brands.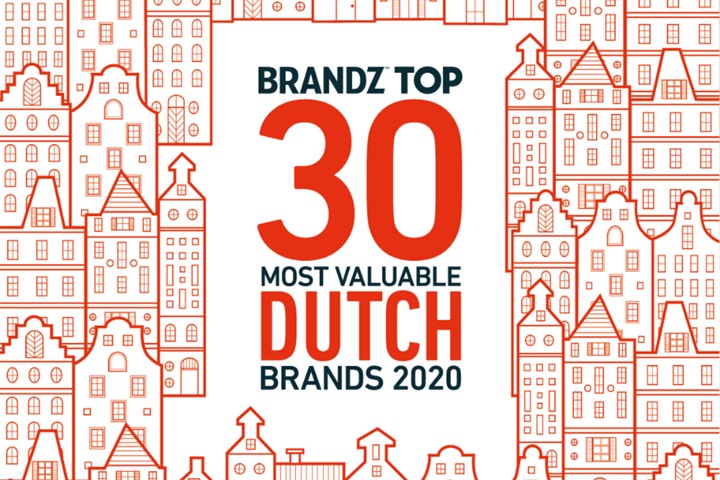 BrandZ Top 30 Most Valuable Dutch Brands 2020
Read the report to discover which brands made this year's ranking, what Dutch consumers really think of their most valuable brands, and the uniquely Dutch secret to success.
Watch the Top 30 countdown video
Take a look at the key players in this year's ranking.
In the inaugural BrandZ Top 30 Most Valuable Dutch Brands ranking and report we see how disruptive 'new giants' rub shoulders with iconic brands to create an environment where some of the most innovative brands in Europe have flourished.
Dutch brands are punching above their weight, with the total value of the Top 30 proportionally larger when compared to overall country GDP than the Top 30s from the UK, Germany or France.
While BrandZ global data shows that brands perceived as innovative grow seven times faster than other brands, in a mature and crowded market like the Netherlands, having a strong purpose can also help a brand stand out and increase the likelihood they will be invited into people's lives and homes.
Take a look at the report to discover what consumers really think about the Netherlands' most valuable brands, which brands have made it into the first BrandZ ranking, and how to build a strong brand that stands the test of time.
Download the 2019 infographic.