Featuring 18 industry sectors, Germany has the most diverse BrandZ country ranking. With a value of $336 billion, it remains the most valuable in Europe, ahead of France, Spain and the UK.
SAP maintains its top spot in 2020 with a valuation of $50.9 billion, while Deutsche Telekom grows 9% to $44.9 billion to stay in second place. Mercedes-Benz is the biggest car brand at number three with a brand value of $22.1 billion.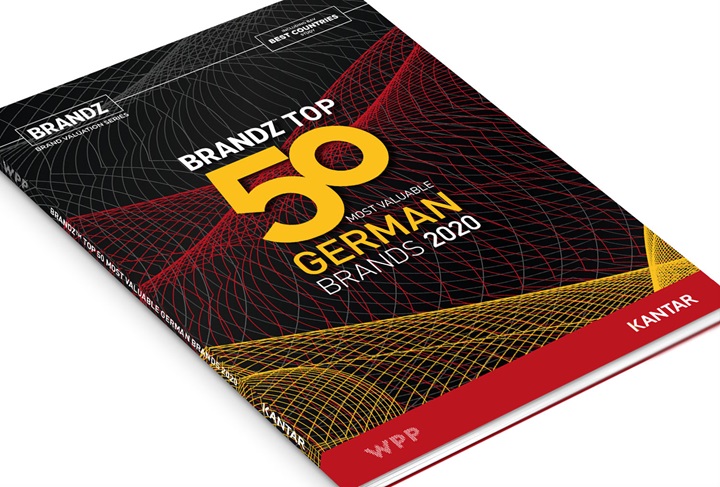 BrandZ Top 50 Most Valuable German Brands 2020
Explore the full report for new market insights and brand success stories spanning all of German life, from banks and beer to apparel and insurance.
Watch the Top 50 countdown video
Take a look at the key players in this year's ranking.
Home to a host of Europe's most valuable brands, the BrandZ Top 50 German brands have grown 11% in the past year to a cumulative value of $341 billion making it the third most valuable BrandZ ranking globally behind the US and China.
While consumers perceive German brands as some of the most innovative in Europe, they struggle to form an emotional connection with them as love scores for the Top 50 decreasing year-on-year. These brands may be huge global success stories but greater warmth would help them deliver event more growth.
Take a look at the report to discover what consumers really think about Germany's most valuable brands, which brands have climbed the ranking, and how to build a strong brand that stands the test of time.
Download the 2019 infographic.
Download the 2019 interactive charts.
Kantar and WPP have published the first BrandZ™ Top 50 Most Valuable German Brands ranking and report. The annual report will cover the evolving landscape for German brands and track their value. The total value of the 2018 BrandZ Top 50 German brands is $305.7 bn underscoring Germany's role as the economic engine of Europe.
SAP leads the ranking, with Deutsche Telekom taking the no. 2 spot followed by BMW, Mercedes-Benz, and DHL. The car category, which also includes Audi, Porsche and Volkswagen, dominated the ranking with a combined value of $66.6 bn.
The report also highlights the importance for German brands to both continually innovate, and communicate their innovation to customers, if they want to protect themselves from global disruptive brands. The report covers some of the successes of companies that are adapting quickly both to changing technologies and consumer demand.
Read the report to find out more about the German market; how the most successful brands are performing as well as new strategies for building healthy brands that will stand the test of time.
Download the 2018 infographic.